Looking over this week's slate of NFL games, the one we chose to use as the Throwback Thursday feature for our week 17 post was a game between the Cleveland Browns and Washington Commanders. We'll go back 60 years, to September 23, 1962, for a game played between these franchises at Cleveland Municipal Stadium. It was the season's second week, and the Browns had opened the year by taking down their main rivals, the defending Eastern Division champion New York Giants, on opening day. Washington, of course going by Redskins back then, had a disappointing tie with the lowly Dallas Cowboys to start their year off, and were looking to right the ship against a Paul Brown-led strong Cleveland outfit.
It was a game of significant importance to one player in particular – Redskin flanker Bobby Mitchell. He was a star player for 4 seasons with the Browns, as a halfback and running mate of superstar fullback Jim Brown. Prior to the '62 season, however, the Browns traded him to Washington for the rights to rookie back Ernie Davis. It was a bad trade for Cleveland as Davis died of leukemia before playing a down in the NFL. For Mitchell, it wasn't exactly a picnic either. The only reason he was acquired by Washington was because their racist owner, George Preston Marshall, was forced to integrate his team, against his wishes. Mitchell was mocked by the owner and ostracized by teammates. Coach Bill McPeak moved him from halfback to flanker, a move that many teams were making at the time. Mitchell had made a mark on opening day with a 92 yard kickoff return, and was determined to keep making major contributions to his new club, despite not being completely accepted. Add in the fact that this game was against the team that gave up on him, and Mitchell had plenty of motivation.
There wasn't a lot of offense for the first 3 quarters of this contest. Washington opened the scoring with a defensive touchdown as Jim Steffen scooped up a fumbled and raced 39 yards to paydirt. Cleveland would get a 1 yard scoring run from Tommy Wilson and sprinkle in 3 Lou Groza field goals, with Bob Khayat adding a three-pointer for the 'Skins. That would set up the play of the game late in the final quarter. Redskin quarterback Norm Snead hit Mitchell with what turned out to be a game-winning 50 yard touchdown bomb as Washington, and Mitchell, pulled off a 17-16 upset. Mitchell wound up with 3 catches for 94 yards and the TD to lead a Washington attack that was outgained 355-209 in total yards by the Browns on the day. The Redskins beat the Browns again in the second meeting of 1962, but Cleveland then dominated the series between them for the rest of the decade on into the early 1970s, winning 12 straight.
To his credit, Bobby Mitchell forged ahead the remainder of the '62 campaign and let his play on the field push back against the racism he faced with his new team. By the end of the season, he took full ownership of his new flanker position and led the NFL in receptions with 72 and receiving yardage with 1,384 yards. His 11 touchdowns ranked third. He was named to his first of what would be 3 consecutive Pro Bowls. His new teammates took notice. He was awarded a football, signed by all those teammates, after his tremendous year as a sign of respect. That ball is now proudly displayed in the Pro Football Hall of Fame in Canton, Ohio.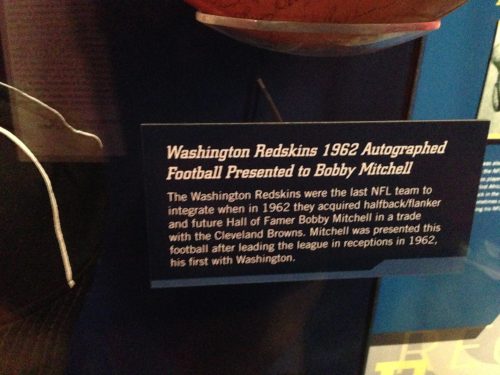 Bobby Mitchell's signed football at the Hall of Fame in Canton