The Pittsburgh Steelers and Los Angeles Rams clash on this week's NFL schedule, and we've chosen a game played between these 2 long-time clubs to feature for this week's Throwback Thursday post. The contest was played on October 2, 1955 at the L.A. Coliseum. In the '50s, both teams had reputations. The Rams were known as an offensive powerhouse, led by their future Hall of Fame quarterback Norm Van Brocklin. The Steelers, on the other hand, were an annual bottom feeder but always played tough defensively. Both teams were coming off opening week victories, but the Rams were favored due to a better 1954 finish. After a scoreless first quarter Los Angeles took advantage of their home field to jump out in front 17-0 by halftime. Fullback Deacon Dan Towler ran in from a yard out to open the scoring, then after a Les Richter field goal Van Brocklin connected with Bob Boyd on a 74 yard bomb for another touchdown.
Pittsburgh regrouped in the second half. Lynn Chandnois scampered  into the end zone from 8 yards out, followed by a 1 yard quarterback sneak by Jim Finks . When Chandnois scored again on a 2 yard run, the Steelers took the lead. However, in what would come to haunt them later, they missed both extra points on the last 2 scores, and their lead was only 19-17. Van Brocklin righted the Rams' ship in the fourth period, finding Tom Fears on a 17 yard touchdown pass to regain the lead at 24-19. The lead didn't last long, however. On their next possession, Pittsburgh defensive back Richie McCabe, who had intercepted Van Brocklin earlier in the game, scooped up a Ram fumble and raced 50 yards to paydirt and suddenly the Steelers were back in front 26-24 and poised for an upset win.
Los Angeles refused to buckle and drove into position for Richter to kick a game winning 32 yard field goal in the waning seconds to pull out the victory 27-26. Boyd was the offensive catalyst for the Rams with 3 catches for 114 yards and his long touchdown. Obviously the missed extra points were costly for Pittsburgh. The teams' fortunes went in opposite directions as the season progressed also. The Rams won the Western Division title while Pittsburgh languished to a 4-8 mark and a sixth place finish in the Eastern Division.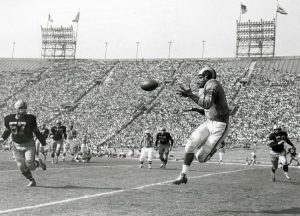 Rams' Bob Boyd hauls in a Van Brocklin pass