The NFL is entering week 10 of it's regular season schedule beginning tonight, and a game featured on the slate is between the Indianapolis Colts and New England Patriots. We'll throw it back to January 21, 2007 for this week's Throwback Thursday post, for a contest that pitted 2 of the era's top quarterbacks, the Colts' Peyton Manning and the Pats' Tom Brady, in a duel for the 2006 AFC Championship and a trip to the Super Bowl.
In the first of what would be a day full of freakish touchdowns, New England's Logan Mankins recovered a fumble in the end zone to give his team a 7-0 lead. Former Patriot Adam Vinatieri got the Colts on the board with a field goal to close out the opening quarter, but the Patriots surged in the second. Corey Dillon scored on a 7 yard run, then Asante Samuel added another off the wall TD when he picked off Manning and returned it 39 yards to the end zone for a 21-3 New England lead. It was beginning to look like another case of Brady getting the best of Manning in their rivalry. After Vinatieri closed out the first half with another field goal, another odd scoring play got the Colts to within 21-13 when Manning scored on a play he never ran, a 1 yard sneak. Indy then tied the game with a 1 yard touchdown pass from Manning to defensive tackle Dan Klecko, of all people, who was a tackle eligible on the play, and a successful 2 point conversion.
New England went the traditional route to go ahead 28-21 when Brady found Jabar Gaffney open for a 6 yard touchdown pass, but the Colts squared the score again to start the fourth quarter on another freak play – center Jeff Saturday's end zone recovery of a fumble. The placekickers took over at that point, with Vinatieri sneaking in a 36 yarder between a pair of three pointers from New England's Steven Gostkowski from 28 and 43 yards out. With a minute left in the contest, the Colts completed the comeback when Joseph Addai ran in from 3 yards out to give his club a 38-34 win and a trip to the Super Bowl. Although he didn't figure in any of the scoring, Colts' tight end Dallas Clark was an unsung hero, catching 6 passes from Manning for 137 valuable yards. Indianapolis would finish the job with a rain-soaked 29-17 win over the Chicago Bears in the big game to give Manning and coach Tony Dungy their first titles.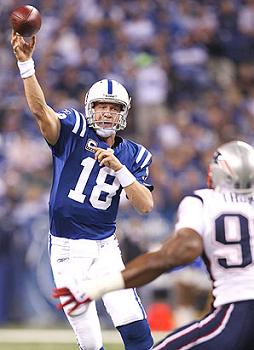 QB Manning at work against Pats' defense