Two old NFL rivals, the Chicago Bears and Detroit Lions, meet this week on the league schedule, and for this week's Throwback Thursday feature we'll harken back to the penultimate week of the regular season of 1954 for a game played between these franchises. It took place at Chicago's Wrigley Field on December 12 of that year. Although the Lions are showing signs of life in the 2023 season, they have been NFL doormats for most of the last 60 years. That wasn't the case in the 1950s, however. Detroit was a powerhouse club in those days, and going into this contest they had already clinched the Western Division title and a spot in the upcoming championship game. Coach George "Papa Bear" Halas' Bears were also a force to be reckoned with in this era, but the Lions had gotten the best of them recently, winning 4 straight and 5 of the last 6 meetings.
The determined Bears came out fighting in the first half. Quarterback Zeke Bratkowski threw a 26 yard touchdown pass to Jim Dooley, then the other Chicago QB, Ed Brown, came off the bench and found Harlon Hill for a 35 yard score. Doak Walker got Detroit on the scoreboard with a field goal, but before halftime Bratkowski and Dooley hooked up again for a short TD pass and the Bears went into the locker room with a comfortable 21-3 lead. Being a proud club, the Lions didn't die easily. Subbing for starter Bobby Layne, quarterback Tom Dubinski got his team back into the contest in the fourth quarter with a pair of touchdown hookups to Jug Girard to bring the score to 21-17. John Hoffman gave the Bears some breathing room, and the Bears' final score, with a 19 yard touchdown run to put his team ahead 28-17.  Detroit closed the gap to 28-24 on a Dubinski touchdown toss of 40 yards to Jim Doran, but Halas' forces hung on for the 28-24 win, breaking their losing streak against their Western Division rivals.
The Lions had one more regular season game to play after this one, as they traveled to Cleveland to meet the club they would face for the NFL championship a week later. They prevailed 14-10 to finish 9-2-1 for the year. That game didn't mirror what would happen when those 2 teams met the next week, again in Cleveland, for the title. The Browns won the crown handily 56-10.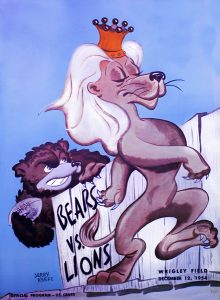 Bears-Lions game program from 12/12/54