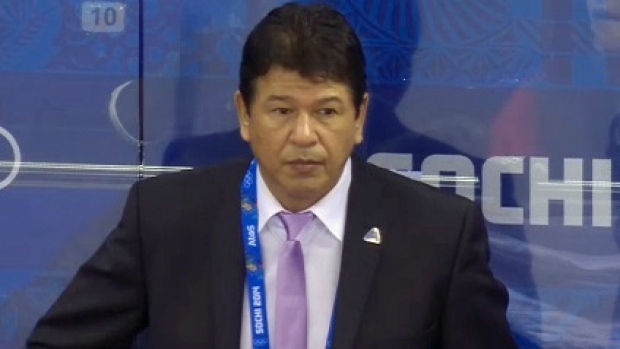 Sabres' interim coach Ted Nolan at the Olympics
So this is what "Hockey Heaven" is supposed to look like? That's a question loyal Buffalo Sabres' fans have to be asking after a crazy weekend of turmoil surrounding the team. It's been quite awhile since I posted anything regarding the local NHL team, in fact, the last was a 2012-13 season review of the team published last May. Since then, the creator of that "Hockey Heaven" title, owner Terry Pegula, finally came to his senses and got rid of both GM Darcy Regier and coach Ron Roulston, and made what looked like a brilliant move by hiring Pat Lafontaine to guide the franchise back to respectability. Dumping the previous regime amounted to lifting the Sabres out of a "Night of The Living Dead" era with the placid Regier and Roulston, and reviving them behind a well-respected figure from the team's past in Lafontaine. It was a terrific PR move, made even better when Lafontaine brought in Ted Nolan along with him to become interim coach. Then a veteran Hall of Fame front office man, Craig Patrick, was added to the mix as an advisor. Lafontaine, after a careful search, hired Tim Murray from Ottawa as the team's new general manager, and an impressive executive team was complete. Everything looked rosy, until a whirlwind weekend of events shook the team to its' core. Those events were a blockbuster trade that sent the face of the franchise, goaltender Ryan Miller, and team captain Steve Ott to the St. Louis Blues for what appears to be an impressive haul in return – goalie Jaroslav Halak, young forward Chris Stewart, junior prospect William Carrier, a 2015 first round draft pick and a conditional 2014 pick – and the abrupt resignation of Lafontaine.
The two events sent shock waves through the Sabres' fan base. The trade was something that was mostly expected, so the reactions were mixed between negative and positive. Lafontaine's departure, however, was stunning and drew complete negative reaction. Where does the team go from here? To me, once the dust settles and the trade deadline passes, there are two people who will be the most important in shaping the future success of the team, Murray and Nolan. Here's my take on both of them: Murray deserves credit for pulling off the blockbuster trade in his first major move as GM.  There are rumors that both Halak and Stewart may  still be traded, but if Buffalo decides to keep them, they have a goalie who has been inconsistent, but who also was a star in a deep playoff run with Montreal a few years ago. Stewart is a power forward who is only 26 and can score, in addition to being a physical force. Carrier and the draft picks are bonuses, and who knows what other assets could be coming here if either Halak and/or Stewart are traded. Minnesota is rumored to be interested in Halak and Murray's old team, the Ottawa Senators, are supposedly salivating at the chance to get Stewart. The bottom line is this – Murray made a bold move that Regier wouldn't have had the guts to pull the trigger on in a million years, and did it without spending a lot of time being sentimental about the departing players. I see that as a positive, since the Sabres, Pegula included, have been mired in a sentimental journey into the team's legacy, honoring past players by erecting statues. Even bringing back Lafontaine, to a degree, fed into that. The team has been a great part of the community throughout its' history and had plenty of memorable moments, but they've never won anything, unless Presidents' Trophies and Prince of Wales Conference titles are good enough. Murray is a fresh set of eyes for this organization, with no ties and no sentimental attachment to the past, and that's a good thing. I'm excited to see what he can accomplish as a GM.
The one concern I do have with Murray is what he will decide is the future of the other person I consider important to the team – Nolan. There are stories that claim Murray will want to bring in his own coach, and I suppose he has a right to do that. However, Nolan was asked to come here and attempt to right the ship, and he has more than answered the call. He inherited basically the same team as Roulston, and the difference in the play of that team between the beginning of the year under Roulston and now is like night and day. The three games since the Olympics have been amazing. Three wins under the cloud of the trade deadline engineered by a guy still holding the "interim" tag. The most impressive was Friday night's win over San Jose. It was a bizarre game, with Miller and Ott pulled from the lineup less than an hour before the drop of the puck. The game telecast included an unreal scene where the intermission show between the first and second periods included a farewell press conference for the traded players. The Sabres, for the foreseeable future, are going to be a rebuilding project of trying to piece together young players into some semblance of a competitive NHL team. After watching the Latvian team in Sochi, is there any coach out there with better credentials to accomplish this job than Ted Nolan? It would be a crying shame if he is denied, for a second time in his career, the opportunity to finish a job he started.