As the National Hockey League playoffs continue on toward the Stanley Cup, it's time to review what turned out to be a disastrous lockout shortened season for the Buffalo Sabres. The woeful play of the team's players wound up costing Lindy Ruff his coaching job, which was no surprise to me. The wise move would have been to fire Ruff at the conclusion of the 2012 season to get a fresh start, since it became obvious that the players had tuned him out last year. Here is a look at where I feel the Sabres stand at this point:
Coaching
Ruff was finally put out of his misery, and the team summoned Ron Roulston from their Rochester AHL affiliate to finish the season as interim coach. He managed to steer the team to a better than .500 record, and was rewarded by having the interim title removed, as he becomes the permanent head coach next year. It was not a move that received much positive feedback from fans, justifiably in my opinion. Rolston's strength is supposed to be developing young players, yet Tyler Myers, Tyler Ennis and Marcus Foligno seemed to regress, if that was even possible, after he took over. Under Rolston, the Sabres basically did the same thing they did for Ruff at the end of last year, rally from a slow, lazy start to the year to "almost" qualify for the playoffs. To me, the team continued to underachieve with Roulston as coach, and despite his barely winning record, some of the team's worst performances of the year came on his watch (remember the Ranger game fiasco with Ryan Miller's unprofessional, unfocused clearing attempt?) There were some positives for Roulston – two players he mentored in Rochester, Brian Flynn and Kevin Porter, were called up and made positive contributions. They at least laid the groundwork that they plan to compete for roster spots with some of the lazy incumbents on the roster next season.
Goaltenders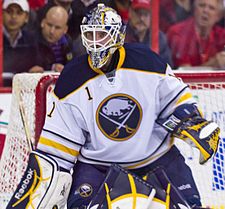 Jhonas Enroth
If the Sabres feel the need to continue the total housecleaning they started on trade deadline day, they should trade Miller. He's 33 years old and really has never achieved "elite goaltender" status in my mind. Jonas Enroth's play for Sweden in the recent IIHF tournament, where he had a 6-1 record with 2 shutouts and led his team to a gold medal win over Canada, is encouraging, and he should be given first crack at taking over in net if Miller is dealt. Also, the team has a pair of 23-year old prospects in their system who need to play – Matt Hackett (acquired in the Jason Pominville deal) and Connor Knapp. This is just an observation, but it seems that Sabre prospects (translation:Darcy Regier draft picks) are always "not quite ready to make the jump to the NHL", and then either disappear into oblivion (out of hockey completely) or end up starring in another organization (see Dan Paille and Clark MacArthur).
Forwards
Thomas Vanek
The 2 brightest lights among the forward lines this season were alternate captain Thomas Vanek and newly-acquired Steve Ott. Vanek is also mentioned in house-cleaning trade talk, but in my mind owner Terry Pegula should order Regier to get him re-signed for the balance of his career. The franchise has had a glaring need (basically for 40 years) for a winger who is not afraid to go to the front of the net, and Vanek is currently one of the league's best at just that.  Even if you decide on a youth movement, you need to keep a few veterans around to give fans some hope. Cody Hodgson also had a decent year statistically, and it will be interesting to see how he does in a full season. At this point, Ville Leino is a collossal free agent bust, but when healthy, he is a difference-maker and the team needs to give him a longer look. Patrick Kaleta knows his role and does it well, and Flynn and Porter's play was encouraging. The rest of the forward line players are underachievers, the biggest offenders being Foligno and Drew Stafford. Luke Adam shows signs of progress at times, then plays his way back to Rochester. It will be a make-or-break season in 2013/14 for him and the smaller "speed" guys – Nathan Gerbe and Ennis. There are supposedly promising Regier draft picks waiting in the wings also – Mikael Grigorenko, Joel Armia and Zemgus Girgensens. If Regier is such a genius as a GM, then Sabre fans should expect these guys to develop into superstars, right?
Defensemen
Mark Pysyk
The team moved out a big chunk of experience on defense at the deadline, but has a pair of good leaders, Christian Ehrhoff and Andrej Sekera, to begin rebuilding the back line with. Tyler Myers needs to step up next season. He was given a huge contract, then showed up out of shape after the lockout ended and played terribly all year. He's a good enough prospect that the club should overlook the shortened season and give him a chance at redemption. If he gets his head out of his derriere, he can be a big building block in the team's rebuilding plans. Alex Sulzer is a decent, if not spectacular, player, and should compete for playing time, along with Mike Weber and Adam Pardy. The team has some interesting young players on defense also, including Mark Pysyk, Chad Ruhwedel and Braydon McNabb. They need a couple of these guys to develop into dependable top six defensemen next year.