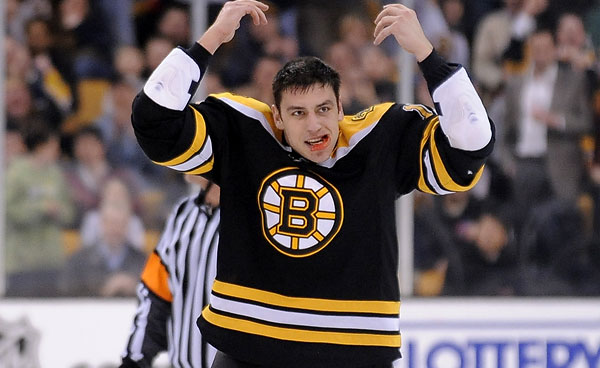 Boston Bruin Milan Lucic
The National Hockey League, supposedly, has made a concerted effort to legislate hits to the head, and unnessary violent hits, out of the game in order to protect the players from serious injury. They appointed a new director of player discipline, former player Brendan Shanahan, who hit the ground running in his new job by levying fines and suspensions in the preseason and early season, with each accompanied by a video explaining why. Shanahan has been unforgiving in his enforcement, and has gained major support around the NHL for being tough on "goons". Two exceptions to the crackdown are former employees of the Boston Bruins, Hockey Night In Canada analyst Don Cherry and NBC analyst and resident neanderthal Mike Milbury, who accused Shanahan of trying to turn the game into "touch football". Milbury's schtick to draw attention to himself as an analyst is to put on a macho act, making fun of players who wear protective face shields and even helmets.
So recently, there was an incident in Boston where Lucic leveled Buffalo Sabres' goalie Ryan Miller with a vicious check after both skated toward a loose puck in the Sabres' zone. Miller is now out indefinitely with a concussion. It was announced on Monday by Shanahan that Lucic, who was penalized for charging on the play,  would not be suspended for the hit. Buffalo management, of course, was incensed by the decision, with coach Lindy Ruff saying that Shanahan has now declared open season on goaltenders, an assessment I totally agree with. In fact, Jhonas Enroth, playing in place of Miller, was crashed into by a Montreal player in the team's very next game. At the very least, Shanahan has virtually guaranteed that the next meeting between the Sabres and Bruins will be a total bloodbath. It's disappointing to me that the reaction to the play around the league was amazement that no Sabre got "revenge" on the Bruins by going after Lucic or running Boston goalie Tim Thomas in the game, rather than villifying Lucic for the hit. Sabre tough guy Patrick Kaleta has been one of Shanahan's suspension victims this year, for "multiple" hits to the head and because he is a repeat offender, which apparently makes you open to closer scrutiny under his rule. Lucic, by the way, was fined in 2010 for punching an Atlanta Thrasher player who was being restrained by a referee during a scrum and for making an obscene gesture toward the Atlanta bench after the incident. He was also fined and suspended during the playoffs last year for a hit to the head on a Montreal player. But in this case, Shanahan calls Lucic to his office to "explain" his hit on Miller and says he's satisfied with the answers Lucic gave him that he had no intent to injure. Did he really expect the Bruin goon to say he deliberately tried to hurt Miller? That's like trying a murder suspect in court and taking the suspect's word that he didn't do it and not hearing the prosecution's evidence against him. It's ludicrous for Shanahan to come down hard on all these other players so far in his new job, then relent to the league's cavemen and not suspend Lucic in this case. Shanahan has already criticized Sabres' management statements that it's now open season on goalies, claiming that won't be the case, but it's a virtual certainty that the goons around the league are now going to test the league's new player discipline czar.