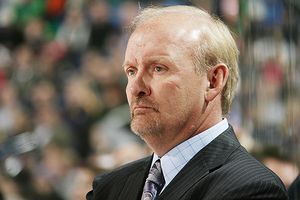 Ken Hitchcock, Larry Robinson, Bob Hartley, Pat Burns, John Tortorella, Peter Laviolette and Randy Carlyle. What's the significance of the names on this list? They are the names of the NHL coaches who won Stanley Cups and have been fired by the teams they won those Cups with, in the time since Lindy Ruff started as the Buffalo Sabres' head coach in 1997. Ruff himself took Buffalo to the Cup finals in 1999, where they lost to the Dallas Stars in a series that included the famous foot-in-the-crease "No Goal" game. In addition to the 7 names above, there are 8 other coaches who did what Ruff did, took their teams to the Cup Finals and lost, who have also been fired.  That amounts to an extraordinary length of "rope" that has been extended to Ruff during his tenure as Sabres' coach. When he was hired, Ruff was not a popular choice, and was actually a victim of a lot of fan backlash because the team had fired the extremely popular Ted Nolan, who had made a habit of extracting maximum effort from rosters with minimum talent. Ruff eventually won the fans over, by doing the same thing Nolan did – winning and having playoff success with teams that lacked any stars. Ruff's teams were routinely referred to as "the hardest working team in hockey", especially during the Michael Peca, Rob Ray, Brad May, Matt Barnaby era. Ruff has managed to win playoff series against teams that dominated the Sabres in the postseason in their past – teams like Boston and Philadelphia.
But that's part of the reason why I feel the time has come for new owner Terry Pegula to part ways with Ruff and try to move in a different direction. The bar has been set too low in this city. Pegula, when he bought the team, proclaimed that the sole reason for the Sabres' existence would be to win the Cup. Consider this statistic – Ruff, in January of 2011, won his 501st game with the Sabres, becoming the winningest coach in NHL history with the same franchise, surpassing former Montreal coach Toe Blake and former New York Islander coach Al Arbour. The glaring difference is that both Blake and Arbour won multiple Cups with their teams, while Ruff has yet to accomplish the feat.
During a recent broadcast on the new NBC Sports Network of a Sabres road game in Chicago, which was a sorry effort by Buffalo, the national announcers mentioned that the Sabre bench was full of players "with thousand yard stares" and intimated that the team seemed to lack effort, a trademark of previous Ruff teams. Remember, these comments came from neutral national announcers, not "homers" Rick Jeanneret, Harry Neale and Mike Robitaille, who tend to look for a positive spin in almost every situation. Those comments seem to imply that Ruff has lost the team, that they've stopped listening to him. In a post-game interview, a reporter questioned why young players are routinely punished with less ice time when they make mistakes, while free agent prize Ville Leino was let off the hook for an ill-advised between the legs pass that ended up in a turnover and a Chicago goal. Ruff's gruff response of "you coach!" tells me that he not only is feeling the pressure of the continuous losing, but has no answers either. I've followed sports for a long time and my experience has been that type of response is usually a sign that a coach is on the way out.
If Pegula should decide to make a switch, what options does he have that would be better than Ruff? Bringing in a total outsider wouldn't work  (although Anaheim fired Carlyle, brought in Bruce Boudreau and has righted its' ship). The team had a couple of outstanding replacements in their system in recent years with Randy Cunneyworth and Kevin Dineen, but they are both coaching, in Montreal and Florida, respectively. The team's problems have been mostly due to lack of offense, so on the current staff  James Patrick and Teppo Numminen, both being former defensemen, don't seem to be good fits. That leaves Kevyn Adams, who is supposed to be a rising star in the organization but has little coaching experience. If it were my choice, I'd go with him and hope to catch lightning in a bottle. Putting Adams in charge would be a risky, bold move, but let's face it, this stale organization needs to be shaken up.