The Dallas Cowboys and Cleveland Browns lock horns on this week's NFL schedule, and we'll travel back to a game played between these 2 clubs on December 28, 1969 for this week's Throwback Thursday feature. It was a divisional round playoff game between the Browns, the Century Division champs, and the Capitol Division titlist Cowboys. The NFL, in it's last couple of seasons prior to the merger with the AFL, was divided into 4 divisions – Century, Capitol, Coastal and Central. Both clubs were perennial winners in the decade of the 1960s, although Dallas was beginning to gain the reputation as a team that "couldn't win the big one". Despite being molded into a perennial winning franchise by coach Tom Landry, the Cowboys had suffered crushing defeats in the prior 3 years' playoffs. Vince Lombardi's Green Bay Packers beat them twice in the NFL championship game and the Browns upset them in a divisional playoff game in 1968. The rematch in this 1969 clash would be a repeat of the previous season, and a certain nemesis that haunted the Cowboys was to be a major factor again. That nemesis was Browns' wide receiver Paul Warfield. He had been a thorn in Landry's side in the clubs' two prior meetings – catching 7 passes for 170 yards and 2 touchdowns in Cleveland victories. Warfield again burned the Cowboy defense in this game. Although he didn't reach the end zone, he racked up 99 yards on 8 receptions to lead all receivers in a resounding 38-14 win by the Browns.
Cleveland had control of this contest from the opening whistle as quarterback Bill Nelsen engineered drives that resulted in a pair of short rushing touchdowns from fullback Bo Scott, a scoring throw to tight end Milt Morin and a Don Cockroft field goal as the Cotton Bowl visitors built a 24-0 lead in the third quarter. Craig Morton, battling to get Dallas' offense moving, finally got his club on the scoreboard with a 2 yard QB sneak, but after Leroy Kelly scored on a short run, his struggles reached the point of no return as Cleveland cornerback Walt Sumner intercepted him and ran it back 88 yards for a gut-punching touchdown to open up a 38-7 Browns' lead. In what was to become an omen for the future, Landry turned to his backup signal caller, Roger Staubach, to salvage some dignity in the game. Roger the Dodger guided the Cowboys on a scoring drive that culminated with a touchdown pass to Lance Rentzel to complete the game's scoring.
It took a few years and a couple more cringeworthy postseason losses before Dallas finally overcame the "can't win the big one" stigma. In Super Bowl VI in 1971, they routed the young Miami Dolphins 24-3 to give Landry his first championship. To finally end their postseason failure string was one thing, but it also came with a cherry on top. Warfield, now a member of the Dolphins, was held to a pedestrian 4 catches for 39 yards in the win.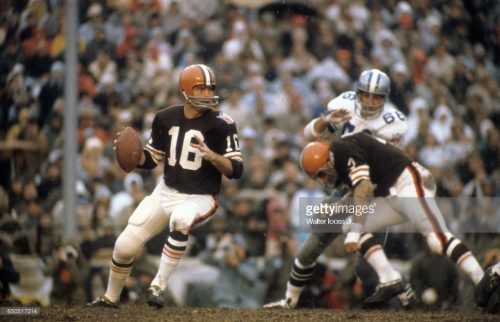 Browns' QB Bill Nelsen surveys the defense (Getty Images)