It's the high-flying Kansas City Chiefs taking on the lowly New York Jets on this week's NFL schedule, and for this week's Throwback Thursday feature we'll zero in on a time when both of these clubs were powerhouses. It's December 20, 1969 at frigid Shea Stadium for a divisional playoff game to begin the chase to see who will be the last American Football League champion before the league merges into the NFL. The Jets are defending champions, having shocked the world by upsetting the heavily favored Baltimore Colts in Super Bowl III. The stage is set for the Jets – they are reigning champs, have home field advantage for the title game and most of all have their swashbuckling quarterback, Broadway Joe Namath, leading their offense. The Chiefs, however, enter the game with a better overall record, and, having beaten New York in the regular season, are installed as favorites to win.
The teams are both guided by future Hall of Fame quarterbacks in Namath and K.C.'s Len Dawson, but on this day, the cold weather and a pair of ferocious defensive units take command and dictate play. Scoring in the first three quarters is limited to field goals. Jim Turner boots one to give the Jets an early 3-0 lead, while Jan Stenerud answers with a three-pointer in each of the next 2 quarters to put his Chiefs ahead 6-3. New York gets a golden opportunity to crack the end zone when Kansas City cornerback Emmitt Thomas is called for pass interference in the end zone, setting up the Jets with first and goal at the one yard line. The Chiefs' stout defense, particularly their linebacking corps, takes charge at that point. Future Hall of Famer Willie Lanier stuffs two running plays, while Jim Lynch and Bobby Bell combine to force Namath to throw the ball away on third down and inches, forcing another Turner field goal to tie the game. It was a dismal performance overall by Namath. He completed only 14 of 40 passes against the Chief defense and was intercepted 3 times, twice by Jim Marsalis.
Dawson finally musters up a drive that ends in 6 points when he hits Gloster Richardson from 19 yards out to supply the Chiefs with their final victorious margin of 13-6. The Chiefs, who were Western Division runnerups to Oakland, extract revenge on the Raiders the following week by beating them 17-7 to capture the final AFL title. They uphold the AFL pride that the Jets had gained the previous year a week later by upsetting the Minnesota Vikings in Super Bowl IV.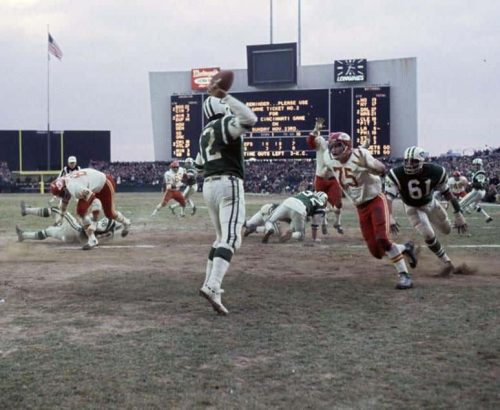 It's a cold, rough day for Joe Namath (12) and the Jets