As the NFL enters week 4 of it's 2022 schedule, the always entertaining NFC East rivalry between Dallas and Washington is on the menu. For this week's Throwback Thursday feature we'll reach way back to November 4, 1962 for a matchup between the 2 clubs. It was week 8 of the season, and both the Cowboys and Redskins were competitive in the NFL's tough Eastern Division. The New York Giants and Cleveland Browns were dominant forces in the division, and even the lowly Pittsburgh Steelers were playing well that season. Washington came into the contest with only a single defeat at 4-1-2 (ties were common in those days with no overtime) while Dallas was still in it's infancy, in only their third season under coach Tom Landry. Still, Landry had guided them to a respectable 3-3-1 mark.
Landry, always the innovator, implemented a system on his offense in which he alternated his quarterbacks, something that would be scoffed at in today's game considering the fragile egos of today's signal callers. Playing 2 quarterbacks was relatively common in those days, but mostly coaches would make an in-game change solely due to poor performance or injury, since the quarterbacks took brutal beatings back then. Landry took the ploy to extremes as he changed QBs at will regularly during a game. Whether it was a sound strategy or not, it worked out well for the Cowboys on this day. Young Don Meredith got the first kick at the can. After the teams traded first quarter field goals, he connected with Lee Folkins on an 11 yard touchdown pass. Old soldier Eddie LeBaron got his turn next, and he delivered with a 23 yard scoring toss to fullback Amos Marsh. Meredith then took another turn and found J.W. Lockett on a short 4 yard throw to put Dallas in front 24-3. In the final quarter Amos Bullocks scored on a 4 yard run, then LeBaron returned and led a drive culminating in a 14 yard TD toss to Frank Clarke.
Now the rout was on. Redskin coach Bill McPeak then made the move common to the era, replacing the ineffective Norm Snead at quarterback with backup Galen Hall. Hall put together a scoring drive that he finished off himself with a touchdown scamper from a yard out. Marsh was the offensive star for the Cowboys with 10 carries for 109 yards on the ground and 3 receptions for 53 yards and the TD through the air. Dallas left town with an impressive 38-10 victory in tow, but as the season wore on both teams took a nosedive in the standings, finishing fourth and fifth respectively in the 7 team East, each with losing records.
Coach Landry eventually settled on the younger Meredith as the full time starter later in the decade, but he did revert to the alternating tactic again in the early 1970s with Craig Morton and Roger Staubach. The Cowboys finally shed their "can't win the big one" label in 1971 when he gave Staubach the job full time. They defeated Miami that season for their first Super Bowl title.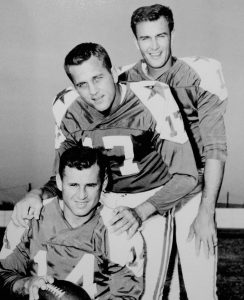 1960 Cowboy QBs LeBaron, Meredith, Don Heinrich