The game we're highlighting today on Rayonsports for the Throwback Thursday feature is an old American Football League game that took place on October 16, 1966 between the Denver Broncos and Miami Dolphins, who meet on this week's NFL schedule. 1966 was Miami's inaugural season in the AFL, and this contest, which was played in week 6 of that year, was significant even though both clubs were league doormats. The Broncos, who never enjoyed a winning season in the 10 year history of the AFL, entered the game at 1-4 while the expansion Dolphins were winless in their first 5 games. Denver's inept franchise represented Miami's first real chance of breaking through into the win column, and they were ready for the challenge.
A pair of former Broncos exacted a bit of revenge in the opening quarter for the young Fish. Fullback Billy Joe, a Denver rookie in 1964, took a George Wilson Jr. pass 67 yards to paydirt, followed by a 35 yard field goal from another former Denver standout, Gene Mingo. The Broncos cut the lead to 10-7 on a 5 yard touchdown run by one of the AFL's early and underrated stars, Abner Haynes. That lead held for the rest of the first half and Miami's defense took charge in the second. They held Bronco quarterback John McCormick to 90 yards passing on 9 completions in 25 attempts, and intercepted him 4 times. Veteran Tobin Rote replaced McCormick and had no success either as the Dolphins sacked him 4 times.
The Dolphins' offense, led by the head coach's son, George Wilson Jr., wasn't that impressive either, but did manage a short scoring run by halfback Joe Auer in each of the last 2 quarters. The final result was a 24-7 Miami victory, the first in franchise history. The Dolphins would go on to win the following week also, defeating the Houston Oilers, and would manage one more win to finish 3-11 for the year, tied for the basement of the Eastern Division with the Oilers. Denver went 4-10 and finished in their usual spot at the bottom of the Western Division.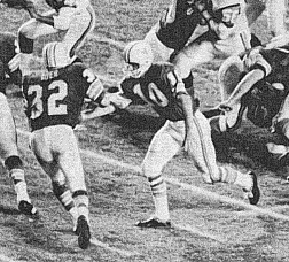 Joe Auer takes the handoff from George Wilson Jr.