In past NFL history, the Green Bay Packers and New York Giants, two of the oldest NFL franchises, have met in some memorable games. They play each other again on this week's NFL schedule, so we will travel back in time to highlight a game they played against each other. Although they have clashed multiple times in the league championship game in the 1930s, '40s, '60s and '90s, our featured game is a regular season meeting, played on November 1, 1959. The significance? It marked the first game that Green Bay coach Vince Lombardi, a Brooklyn native and former Giant offensive assistant, returned home to face his former team.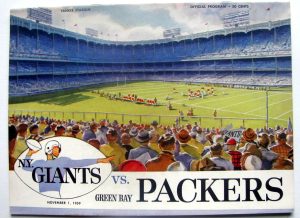 Giants/Packers program from 11/1/59
In the mid to late 1950s the Giants were an NFL juggernaut under head coach Jim Lee Howell. They reached the title game 3 times and won it in 1956 over the Chicago Bears. Howell's main offensive assistant was Lombardi, and the architect of the defense was Tom Landry, who was destined to move on and become the first head coach of the Dallas Cowboys in their inaugural season in 1960. Howell, keenly aware of the combined genius of his top 2 aides, used to joke that his job was to just roll out the footballs to the team and then get out of the way.
That, of course, was an exaggeration, and on this day it was proven that Howell deserved a lot of credit also for the success of his team. New York limited the Packers to just 9 first downs and 160 total yards as they pounded out a 20-3 win over Lombardi's troops. The Giants' offense didn't exactly shine either, but fullback Alex Webster, who would go on to coach the team in future years, had a respectable day to lead the club. He totaled 90 yards combined rushing and receiving, and scored the game's only 2 touchdowns on runs of 3 and 7 yards. Future broadcasting legend Pat Summerall completed New York's scoring with two 49 yard field goals. The Giants had one big advantage over the Packers in the game. Their quarterback was Charlie Conerly, a veteran who had guided them to a title. Green Bay's signal caller was journeyman Lamar McHan. Bart Starr was on the team's roster but hadn't yet convinced the coach he was ready to lead the team. That would change later in the season, and Starr would then go on to take the Pack to 6 championship games in 8 years, winning the last 5. Included in the title run were 2 victories over the Giants, in 1961 and 1962.
Lombardi strolls the Packer sideline