Two NFL franchises that have had epic battles over the years meet this week on the league schedule – the Dallas Cowboys and San Francisco 49ers. We'll feature them in this week's Throwback Thursday post, with a divisional playoff game played on December 23, 1972 at Candlestick Park in San Francisco. Dallas, as defending Super Bowl champs, was favored over the NFC West Division champion 49ers despite being a wild card team. The 49ers used their home field advantage to jump out to an early lead as Vic Washington returned the opening kickoff 97 yards for a touchdown. Dallas settled down and got on the scoreboard as starting quarterback Craig Morton led a drive that resulted in a Toni Fritsch field goal to cut the margin to 7-3. In the second quarter veteran San Fran signal caller John Brodie engineered a pair of scoring drives, both ending in 1 yard Larry Schreiber touchdown runs to put his club up 21-3. Morton, although mostly ineffective,  got Dallas back in the game as he led the Cowboys on another drive that yielded a second Fritsch field goal, then hit Lance Alworth with a 28 yard TD throw to cut the lead to 21-13 at halftime.
Both teams' defenses tightened in the third stanza with the only scoring coming on another 1 yard Schreiber run. The 49ers now entered the final quarter with a seemingly commanding 28-13 lead, made to look even more insurmountable by how poorly Morton was playing. After seeing his starter complete only 8 of 21 throws for a paltry 96 yards to go with a pair of interceptions, Dallas coach Tom Landry decided to insert Roger Staubach to lead the offense, and Captain Comeback delivered. The Cowboys scored 17 unanswered points in the final quarter, first adding another field goal before Staubach rifled a pair of touchdown passes – to Billy Parks from 20 yards out to bring the score to 28-23, then adding the winning points with a 10 yard toss to Ron Sellers to give the defending champs a 30-28 victory, earning a trip to the conference title game. Parks wound up catching 7 passes for 136 yards and the winning touchdown, but another major contribution to the win came on the ground from Calvin Hill, who provided 125 valuable yards on 18 carries.
Their success for the '72 season would end on this day, however, as the Cowboys were manhandled the following week in the NFC Championship game by the archrival Washington Redskins, 26-3.That win by Washington's "Over The Hill Gang" earned them a trip to Super Bowl VII, where they fell to the NFL's only unbeaten team in history, the Miami Dolphins.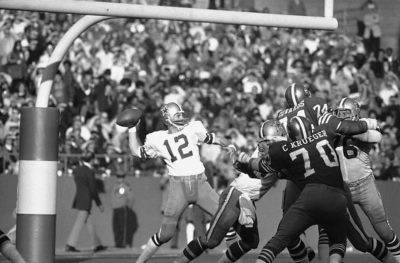 Roger the Dodger leading Cowboy Comeback