It's officially Super Bowl week! Rayonsports hasn't posted during the week leading up to the big game in years, since 2019 in fact, but we're revisiting that tradition this year. "List" posts are always my favorite, and there'll be a few of those, starting with today, as I compile my list of the five greatest Super Bowl quarterbacks of all time. It's subject to debate, of course, but I believe I'm right. Some honorable mentions go to Joe Namath, who pulled off one of the biggest upsets in the game's history, Eli Manning, who won 2 titles and took down Tom Brady's previously unbeaten Patriots in one of them, Jim Plunkett, once considered a bust but who revived his career with the Raiders and won a pair also, Roger Staubach, who appeared in 4 Super Bowl games and won 2, and Steve Young, who came out from under Joe Montana's shadow with a record-breaking performance in his one title win. Here are my five:
1. Tom Brady – I really don't like this guy, who recently announced he's retiring (again), but there's no denying he's the greatest of all time, and even more so as the best Super Bowl QB of all time. Ten appearances in the title game, and 7 wins leave no doubt that his record of excellence will never be matched.
2. Joe Montana – Joe Cool deserves the next spot on the list as he won 4 Super Bowls in 4 tries with a spotless record. He was the game's MVP 3 times and completed 68% of his passes for 11 touchdowns and zero interceptions, for a 127.8 average passer rating while doing it. He was also the catalyst in all his wins, while Brady needed field goals, an epic meltdown by Atlanta's defense and Seattle's boneheaded play calling at the goal line to win some of his, so there's a valid argument that Montana could be in the top position.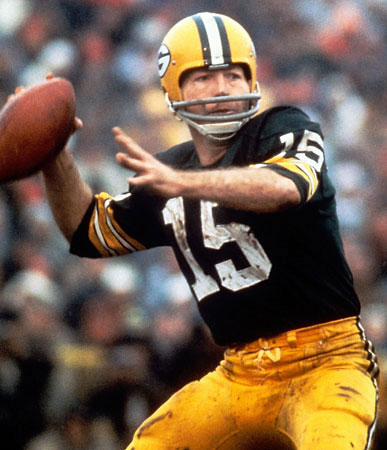 3. Bart Starr – the leader of Vince Lombardi's 1960s Green Bay Packer dynasty is always overlooked, but he rates highly on my list. He guided the Packers to wins in the first 2 Super Bowls and was MVP both times. He also carried the weight of the entire NFL on his shoulders in those years, especially the first one, as the older league needed to actually show they were dominant as they claimed. Starr delivered a pair of one-sided victories with surgeon-like efficiency.
4. Terry Bradshaw – he started his career questionably and was even benched a couple of times, and a lot of people say his Pittsburgh Steelers won their 4 Super Bowls because of their Steel Curtain defense, but the fact is they won at least the last 2 due to Bradshaw's passing ability. He won the game's MVP award in those 2, and threw for 9 TDs with an average 112.8 rating. He was intercepted 4 times, but 3 of those came in his final title game and he was still voted MVP.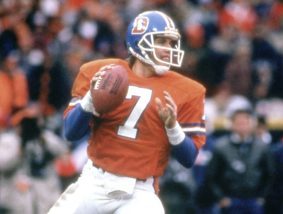 5. John Elway – He deserves to be on the list for persistence alone. One of the greatest signal callers of the 1980s and '90s, he picked up the reputation for not being able to win the "big one". After 3 crushing, embarrassing defeats, he won his last 2 Super Bowls and retired after the second one, going out on top as few top athletes ever do.