The 2020 NFL season is sure to be like no other, with the Coronavirus threat changing all the rules as far as having fans attend games and keeping the players and coaches safe. The teams will have 53 man rosters as in previous years, but practice squads have been increased to 16. As the Buffalo Bills work to finalize their roster, we're ready to preview the upcoming season, which starts this week. Here's our position-by-position evaluation:
Front Office / Coaching
The Bills recently locked up head coach Sean McDermott with a long term contract extension, and hopefully plan on doing the same for general manager Brandon Beane. Continuity is now a major plus for the team with McDermott returning for his fourth season, and coordinators Leslie Frazier, Brian Daboll and Heath Farwell also back. The team brought in a new position coach who they think will be an upgrade in Eric Washington, the new defensive line coach. Beane has done an excellent job replenishing the team's talent in his tenure, and this year he went out of his way to add a huge weapon in the passing game for QB Josh Allen by pulling the trigger on a trade with Minnesota for a top-flight receiver in Stefon Diggs. Despite surrendering his first round draft choice in the trade, Beane was still able to pluck some players in the draft who appear poised to contribute to the club right away. There is one fly in the ointment for the coaches. There are expectations that the team is ready to take over the AFC East crown, but the fact still remains they are 0-6 against Bill Belichick's Patriots in the McDermott era.
Quarterbacks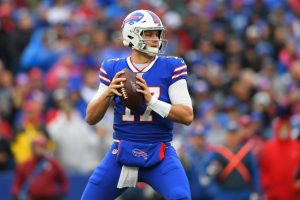 QB Josh Allen is the undisputed leader entering his 3rd year
Josh Allen, entering his third season, is the undisputed leader of the offense now, and although he still showed a few rough edges in 2019, he has steadily progressed to the point where the team is comfortable with him as their "franchise" quarterback. He should continue to improve under the guidance of offensive coordinator Daboll and QB coach Ken Dorsey. Veteran Matt Barkley returns as the main backup, although Beane hedged his bets here somewhat by drafting Jake Fromm to compete for the position. The Bills, mostly because of Covid concerns, will carry 3 signal callers on the roster this year.
Running Backs
T.J. Yeldon is a multi-skilled RB who needs to find playing time
The Bills will carry 4 running backs on the roster this season and for the first time ever that RB room will not include a fullback. Two young bucks – Devin Singletary and rookie Zach Moss – figure to carry the bulk of the load. Singletary showed flashes of brilliance in his rookie campaign last season and looks to build on that this year. Moss is a pounder who should be the team's short yardage option, while also possessing decent receiving skills. T.J. Yeldon rarely saw the field last season but with Frank Gore gone he could play more often in 2020. The fourth back, Taiwan Jones, is strictly a special teamer but an important one as one of the gunners on kick coverage units.
Receivers
Newly-acquired WR Stefon Diggs (Liz Flores photo)
The shiny new toy in the Bills' offensive arsenal is wideout Stefon Diggs, a top veteran obtained from the Vikings in the off-season. He joins John Brown and Cole Beasley, both brought in last season as free agents, as the team's top 3 receiving options for Josh Allen. Rookie Gabriel Davis appears to have earned the fourth spot with an impressive showing in the shortened training camp. Isiah McKenzie is back as another reserve option. He was utilized extensively in gadget and "jet sweep" plays last year so OC Bran Daboll retains that weapon in his deck of cards for 2020. Andre Roberts made the team mostly as the team's primary punt and kickoff returner, but can also be a reliable player when needed at the receiver position. Tight end is obviously a high priority position in Daboll's offense, as the Bills kept 4 of them on the active roster. The starter is Dawson Knox, a possible emerging star if he can improve his ability to hang on to the ball. Tyler Kroft is the main backup, while veteran Lee Smith, a sometimes penalty liability, returns to provide blocking for the run game and leadership in the locker room. The fourth TE is a bit of a Swiss Army knife – rookie undrafted free agent Reggie Gilliam. Being that he played both fullback and tight end in college, he looks to be more of an "H-back" type of player who can fill multiple roles, including on special teams.  At some point during the season the Bills will have to make a decision on another 2019 draft pick, Tommy Sweeney, who starts the year on the PUP (physically unable to perform) list.
Offensive Line
Tackle Dion Dawkins enters 2020 armed with a new contract
Buffalo's offensive line stays mostly intact from 2019, except for the temporary loss of starting right guard Jon Feliciano. Anchoring the unit is center Mitch Morse, the big-ticket free agent signee from 2019. The left side, with underrated Quinton Spain at guard and newly re-signed Dion Dawkins at tackle, returns intact. The right side is still not completely set, but second year man Cody Ford will certainly start, either at guard or the spot he manned last season, tackle. If Ford moves inside, veteran Ty Nsekhe will likely be at tackle. Due to the possibility of Covid infections being high among linemen since they are engaged in close proximity battles on every play, the NFL recommended that teams stack their rosters with extra players at those positions. The Bills kept 10 O-linemen on their initial 53 man roster before temporarily placing Feliciano on IR. Among the reserves, Darryl Williams and Ryan Bates can play multiple positions. Brian Winters and Ike Boettger have mainly manned the guard spots. Also, there are 4 extra offensive linemen on the practice squad ready for action under the new league rules allowing more liberal activation from there to the regular roster each week.
Defensive Line
Ed Oliver, 2019 top draftee, starts at one DT spot
The Bills allowed a couple of their top 2019 contributors along the defensive front, Shaq Lawson and Jordan Phillips, to leave via free agency, and starting tackle Star Lotulelei opted out of the season. Still, GM Beane managed to replenish the troops along the line in the off-season. Three of the four starters on the line are set – top prospect Ed Oliver at one tackle spot and veterans Jerry Hughes and Trent Murphy at end. Among the candidates to fill Lotulelei's position are Harrison Phillips, returning from a season-ending injury, and newcomers Vernon Butler and Quinton Jefferson, both free agent signees. Jefferson provides position flexibility that the Bills' coaches desire since he can play both inside and outside. Another new free agent, Mario Addison, figures to fill the pass rush specialist role that Lawson played in recent years, while the remaining backups, who will certainly see plenty of action in the team's D-line rotation, are a pair of prospects teeming with potential – Darryl Johnson and rookie A.J. Epenesa. Again, the Bills covered their bases depth-wise by keeping 3 extra front line defenders on the practice squad.
Linebackers
Young LB Tremaine Edmunds (Konezny USA Today photo)
The retirement of Lorenzo Alexander leaves a hole in the Bills' linebacking corps since he was a heady, versatile leader on the defense. However, young middle backer Tremaine Edmunds has taken over the defensive signal calling role and has steadily improved so far each year. He is a budding star. Matt Milano, who arguably is another rising stud on the Bills' D-unit, mans one of the outside slots. To replace Alexander, Buffalo signed veteran A.J. Klein, who will see the field only when the team isn't in their nickel formation, which is a majority of the time in the modern NFL. The Bills changed up the depth spots at linebacker as all 3 backups are new. Tyler Matakevich was signed away from Pittsburgh, mostly for his special teams ability. Tyrel Dodson, a PS member for most of 2019, made the final roster this year. The biggest surprise to make the active 53-man list has to be the other reserve LB, Del'Shawn Phillips. Also, Andre Smith, acquired in a training camp trade from Carolina, is available on the practice squad.
Defensive Backs
NFL's top paid CB Tre White (Adrian Kraus AP photo)
The shining star in Buffalo's talented secondary is All Pro cornerback Tre'Davious White, who recently signed an extension that makes him the highest paid CB in the NFL. He's earned that distinction with stellar play so far in his career. At the other corner spot, a grizzled vet, Josh Norman, was brought in to compete with Levi Wallace to start, but injuries in camp kept him from doing that to a degree. It's uncertain how the Bills will line up at that position on opening day. The Bills are secure on the back end of the secondary with a pair of highly underrated safeties in Micah Hyde and Jordan Poyer. Backing them up are steady Dean Marlowe and an up-and-coming 2019 rookie, Jaquan Johnson. The important slot or nickel cornerback spot, which is almost a starting position these days, is manned by Taron Johnson. He has excelled at the job since he's been in Buffalo but has had injury concerns. Maybe the most important member of the secondary is Siran Neal. He can play both safety spots and also the nickel corner, in addition to being a gunner, and one of the main players, on special teams. There are also a number of reinforcements ready on the practice squad should the injury bug bite this position.
Special Teams
Rookie placekicker Tyler Bass
The Bills invested heavily on improving their bomb squads for the upcoming season, re-signing Taiwan Jones to be a gunner on kick return coverage to go with their other gunner, Siran Neal. Tyler Matakevich was signed after being a ST star in Pittsburgh. Also, undrafted rookie Reggie Gilliam perfected the art of blocking kicks (he got 6 of them in his college career at Toledo). The Bills haven't had a threat to do that since Steve Tasker. Andre Roberts, signed last year to put a charge into the team's return game, is back to fill that role. Two thirds of the Bills' kicking game return in long snapper Reid Ferguson and punter Corey Bojorquez.  Bojorquez beat out a couple of rivals to retain his job so the Bills must trust him. Buffalo is rolling the dice a bit in going with a rookie kicker, 6th round draft pick Tyler Bass, over veteran Stephen Hauschka. Hausch Money's consistency and leg strength had diminished in the last couple of years, but it's still a gamble.
Here's your annual song to get psyched up for the upcoming season, the Bills' Shout song: