Baseball may have the best list of all-time nicknames, so it was really hard to trim down to just ten. Some classics that didn't make the list, but deserve honorable mention, are George Herman "Babe" Ruth, "Hammerin'" Hank Aaron, "Yogi" Berra, "Cool Papa" Bell, "Joltin' " Joe DiMaggio, Stan "The Man" Musial, Ron Cey "The Penguin", "Tug" McGraw (a nickname his mother gave him for his habit of breast-feeding aggressively as a baby) and Reggie Jackson "Mr. October". The New York Yankees and Boston Red Sox are two of the sport's oldest franchises, and bitter rivals also, so it's no surprise that they dominate the list with three players each. Here's the top ten: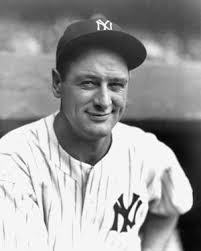 1. Lou Gehrig "The Iron Horse" –   a very fitting nickname for baseball's original iron man, who played in 2,130 consecutive games over 17 seasons for the Yankees in their golden age. Cal Ripken eventually broke his consecutive games record, but it stood for 56 years. He was the first major league player to have his uniform number retired, and the second youngest player elected into the Hall of Fame.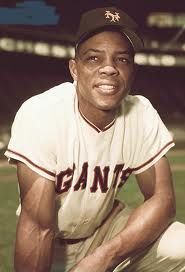 2. Willie Mays "The Say Hey Kid" –   many consider him to be the greatest center fielder in baseball history. There are various stories as to how Mays got his nickname, but the most prominent one is that when he first arrived in the minor leagues, he didn't know any of the other player's names, so he just started addressing them as "say you, say hey" and a local sportswriter tagged him with the name.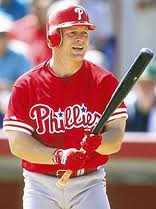 3. Lenny Dykstra "Nails" –   he helped both the New York Mets and Philadelphia Phillies to World Series titles, and his nickname is strictly a tribute to his style of play, which was rugged and all-out, all the time.
4. Edward "Whitey" Ford "Chairman of The Board" – another Yankee great makes the list, not for the "Whitey" nickname, but for the "Chairman of The Board" moniker, which he earned for his poise and command of high pressure situations. Ford pitched for the Yanks for 16 years and is one of the great left-handed hurlers of all time.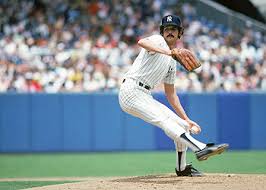 5. Ron Guidry "Louisiana Lightning" –  another Yankee makes the list, and another great southpaw also. He was also known as "Gator", but the Lightning nickname was the one that stuck, as he had a flaming fastball that made him one of the top strikeout pitchers of his era. Like many "flame-throwing" pitchers, Guidry's playing days ended due to arm problems later in his career.
6. Bill "Spaceman" Lee –  this nickname was earned by Lee strictly due to his quirky personality. He had a decent major league career for the Boston Red Sox and Montreal Expos, but was released by both organizations for criticizing management.
7. Sal Maglie "The Barber" –  a very fitting nickname for a very old school pitcher, given to him for his propensity to give hitters "close shaves", a ball player's term for pitching inside. He played for 5 different major league organizations, and is one of just a few players to play for all three New York teams in his era – the Yankees, Giants and Dodgers.
8. Dennis "Oil Can" Boyd –  this nickname would normally be indicative of a pitcher who doctors the baseball, but in Boyd's case the name was earned by his beer-drinking prowess, as beer is known as "oil" in his native Mississippi. Boyd was one of the most colorful characters of his era. Like former teammate "Spaceman" Lee, he pitched for both the Red Sox and Montreal Expos.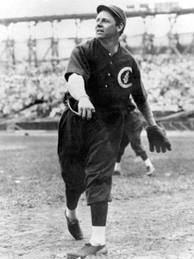 9. Mordecai "Three Finger" Brown – one of baseball's early stars, his playing days go back so far that he actually pitched for a pair of World Series-winning Chicago Cub teams. His nickname came from the fact that he lost parts of two fingers on his right hand in a farm machinery accident, which allowed him to throw a devastating curveball that broke drastically before reaching the plate.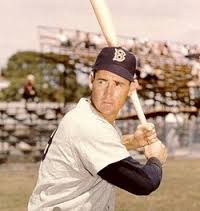 10. Ted Williams "The Splendid Splinter" – this nickname was one of those classic ones that creative sportswriters of the times would bestow on the best players, and it fit Williams well, as he was arguably the greatest hitter of all time. He is still last player to hit .400 in a season, which he accomplished by batting .406 in 1941. His playing days spanned from 1939 until 1960, and he was effective to the end, homering in the last at-bat of his career.