The Buffalo Sabres franchise bottomed out in the 2013-14 season, in practically every sense of the term. They finished last among all 30 NHL teams, scored the least amount of goals since the league added the "Additional Six" teams in 1967, lost the draft lottery for the top pick in the amateur draft and, in what was actually a positive move, cleaned house in the front office.  Here is an assessment of the 2013-14 season with thoughts about what the team needs to do to improve for next year:
Front Office / Coaching
It took a lot of crazy turns but the Sabres' front office situation seems fairly settled now, more or less. On the negative side, the situation involving Pat Lafontaine's abrupt departure was never fully explained, and the man he brought in to mentor him, veteran hockey man Craig Patrick, seems to have disappeared into the woodwork. Does he still work for the Sabres or not? On the positive side, the man Lafontaine hired as general manager, Tim Murray, has slid comfortably into his position and slowly began the work of trying to rebuild the team. He made some bold, creative moves at the trade deadline to stockpile young prospects and draft picks, and completed his most important task – removing the "interim" tag from coach Ted Nolan's title. Nolan didn't win a whole lot of games in the time he had coaching the club this year and it's obvious better players will be required, but he deserved the chance to help improve the team over the long haul just with the improvement he managed to coax out of players like Drew Stafford, Tyler Myers and Tyler Ennis in his short tenure. Nolan's strength as a coach is in motivating and molding young players, a trait that fits what the team will need in the next few seasons. He should be able to do an even better job next season, once he rounds out his assistant staff with coaches he's comfortable with.
Goaltenders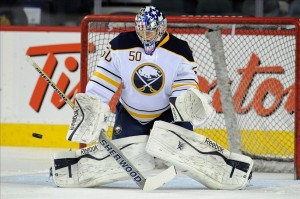 Goaltender Nathan Lieuwen
Buffalo's goaltending situation went from solid at the start of the year, with one of the game's best, Ryan Miller, to a state of flux by season's end. The team went through an NHL record nine different goalies, including Miller and Harbor Center employee Ryan Vinz, who dressed as a backup the night Miller was traded. Jhonas Enroth, apparently, will enter next season as the incumbent starter, since that's the spot he held after Miller left and until he was injured and out for the season. Matt Hackett, Michal Neuvirth, Nathan Lieuwen and Connor Knapp all took turns in net toward the end of the season. It looks like Enroth, Hackett and Neuvirth would be the prime candidates to battle for the two open goaltending spots on the Sabre roster next year, although the others could help their chances with a decent playoff showing in net in the AHL playoffs for Rochester. Buffalo also has young Swedish prospect Linus Ullmark in their system. He'll be 21 in July but doesn't appear to be on the team's radar yet.
Forwards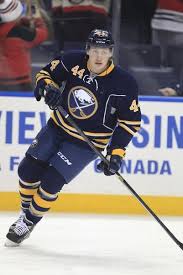 Nic Deslauriers
After scoring the least amount of goals of any NHL team in the post-expansion era, the Sabres' biggest glaring need is for some forwards with offensive talent and scoring ability. The forward ranks are loaded with players who would be third and fourth line players in the league's better organizations. There are some potentially good players in their system, but they're all teenagers who likely won't be ready to help the team in 2014/15, like William Carrier, Nicholas Baptiste, J.T. Compher, Hudson Fasching and local products Sean Malone and Justin Bailey. Johan Larsson could emerge, although he didn't show much in the way of a scoring touch in the short stint he had with the Sabres this year. It would help if a couple of Darcy Regier's top draft picks, Joel Armia and Mikhaill Grigorenko, would develop into something. Armia is playing in his native Finland and not exactly putting up great numbers, while Grigorenko has talent but hasn't shown much maturity. As for the current roster, the "keepers" appear to be young Zemgus Girgensons, Cody Hodgson, Stafford, Ennis, Nic Deslauriers and maybe Chris Stewart, who seems to be the type of player Nolan likes, and who has shown some ability to score. Deslauriers' physical style surely endeared him to Nolan also. Players like Brian Flynn and Torey Mitchell are worth keeping as role players. It's almost certain Ville Leino, a big free agent signing a couple years ago who has produced next to nothing, will be gone. Then there's Marcus Foligno, who you would hope would develop into a scoring power forward but has been wildly inconsistent. It'll be interesting to see how Nolan uses Pat Kaleta when he returns from injury. In any event, other than Girgensons there probably isn't one forward on the roster that Murray wouldn't consider trading at this point if he thought he could improve the team.
Defensemen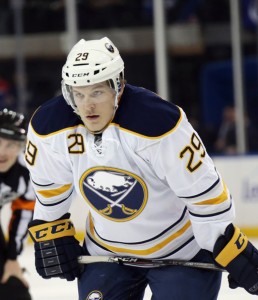 Jake McCabe
Defense is a position Buffalo seems to be well-stocked in going into the future, to the point where Murray felt comfortable trading a pretty good prospect away in Brayden McNabb at the deadline. Tyler Myers has been mostly a disappointment so far but his play improved a lot under Nolan before he got hurt. Christian Ehrhoff  was signed as a free agent the same year as Leino, and has at least given the team some return on their investment. Jamie McBain and Mike Weber play differing styles but seem to be serviceable players. The future of two other veteran defensemen – Alexander Sulzer and Henrik Tallinder, are in question if the team plans to rebuild with youth. Three of Regier's draft picks, Jake McCabe, Rasmus Ristolainen and Nikita Zadorov, appear to have bright futures but it's uncertain if they're quite ready for prime time yet. However, management may decide to take their lumps with the younger players next season on the back end. If that's the case, players who've been up and down between the big club and Rochester, like Chad Ruhwedel, Mark Pysyk, Ristolainen and Zadorov could claim roster spots instead of the crusty veterans.