It's week 16 for the NFL season and the battle for playoff positioning is on. One of the important matchups with playoff implications is between the Pittsburgh Steelers and Indianapolis Colts. We'll feature these 2 franchises in this week's Throwback Thursday post. The game chosen was played on Halloween, October 31, 1971. It was played at Baltimore's Memorial Stadium, where the Colts were located at the time. Baltimore was enjoying another fine season after having won the Super Bowl the previous year, while the Steelers, perennial losers in the 1960s, were in their third season under coach Chuck Noll. The team would gradually be built into the dominant force in the NFL in the 1970s, but at this point were still suffering some growing pains, and were a couple years, plus a couple more excellent drafts, from reaching that status.
The Colts opened the scoring on a 1 yard plunge by Norm Bulaich, then added a pair of field goals by their Super Bowl hero of the previous season, kicker Jim O'Brien, to go up 13-0. A young Terry Bradshaw engineered a drive that he climaxed himself with a short touchdown run to get Pittsburgh on the board. The Colts proceeded to own the rest of the first half as their veteran quarterback, Earl Morrall, connected with Willie Richardson on a pair of touchdown throws of 19 and 49 yards. Morrall continued Baltimore's dominance in the third quarter as he hit Ray Perkins for a 60 yard touchdown. The Steelers now found themselves in a 34-7 hole that they weren't capable of digging their way out of. In a sign of things to come in the future, Bradshaw showed some growth in his game as he continued to fight the battle against heavy odds. He found Ron Shanklin for a 31 yard touchdown, then scored on a short run by himself for the only score of the final quarter to make the final score a somewhat more respectable 34-21 margin for the Colts.
A look back at that season finds that the outcome of this game was fairly predictable. Baltimore was a seasoned veteran team, with players like Morrall, John Unitas, Tom Matte, John Mackey, Mike Curtis, Rick Volk and Bubba Smith to lean on. Pittsburgh's future dynasty was still in its infancy. Bradshaw's offensive options were backs Frenchy Fuqua and Preston Pearson, and his receivers the likes of Shanklin, Jon Staggers and Frank Lewis. Super Bowl stalwarts like Franco Harris, Lynn Swann and John Stallworth were still a few years away.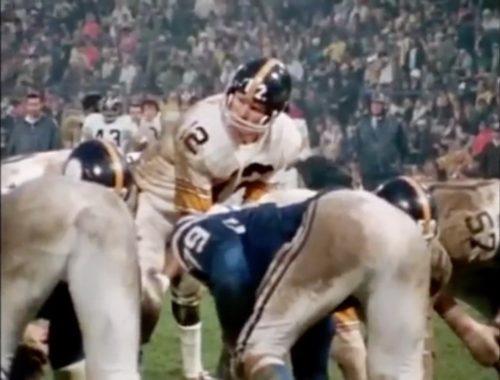 A young Terry Bradshaw leads his Steelers against the Colts