This week on the NFL schedule, the Dallas Cowboys meet the New Orleans Saints, and we'll feature these 2 teams as our Throwback Thursday game. They met on October 17, 1971 at Tulane Stadium, the Saints' home field at the time. The Saints, who entered the league as an expansion team in 1967, hadn't gotten off the ground in the first 4 years of their existence, but in 1971 were ready to finally find some success behind their shiny new rookie quarterback, Archie Manning. The '71 season started slowly for the Saints, as they entered this contest with a 1-2-1 mark, while Dallas, having endured a crushing last-second Super Bowl loss in 1970, won 3 of their first 4 games. Cowboys' coach Tom Landry, trying to get his club past the "can't win the big one" curse, brought in seasoned veterans for the '71 campaign who had won titles with other clubs, players like Mike Ditka, Herb Adderley, Lance Alworth and Gloster Richardson. New Orleans had at least shown some respectability and competitiveness so far this season, but this was a chance to show they were ready to emerge as a rising team.
They did just that as they came out playing inspired football, dominating the first half. Manning threw a 29 yard touchdown pass to Tony Baker for the only scoring in the first quarter. In the second quarter, Charlie Durkee connected on a field goal and Manning finished a drive by taking matters into his own hands, scrambling 13 yards for a score to give his team a shocking 17-0 lead at halftime over the defending NFC champs.  Landry made the decision at the half to replace ineffective starter Craig Morton, who had been intercepted twice, at QB with the dangerous Roger Staubach, who was a scrambler that could create some offense. The move worked, as Staubach fired a 41 yard touchdown pass to Richardson for the only score of the third quarter, then hit "Bullet" Bob Hayes  from 16 yards out to bring the Cowboys to within 3 at 17-14. However, when Manning ran in from 2 yards out for another score, the Saints secured a 24-14 win and sent their fans home happy and with hope for a winning season.
It didn't work out that way, as New Orleans stumbled to a last place 4-8-2 record. Dallas, on the other hand, took some positives from the loss. Landry, who had foolishly entered the year with a plan of alternating quarterbacks with Morton and Staubach, eventually settled on Roger the Dodger as the starter, and he led the Cowboys to their first Super Bowl title that season, a resounding victory over the young Miami Dolphins. The club's first championship win, exorcising the losing demons at last, took place right back at the site of this game, Tulane Stadium.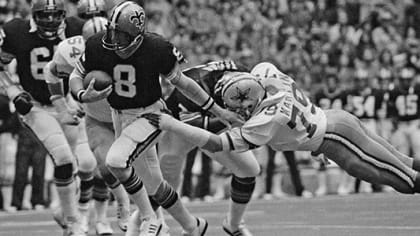 Saints' Archie Manning challenges the Doomsday Defense