Pitcher Carlos Carrasco (left) and OF Shin-Soo Choo.
At the start of every major league baseball season there are a few teams that unexpectedly come out of the blocks flying high, only to crash land at some point over the long 162-game season, settling back into their losing ways. This year, one team that had zero expectations outside of their own clubhouse is the Cleveland Indians. The Indians have been poster children for small market franchises that trade away all their star players for financial reasons to stay afloat in the skewed "haves and have-nots" system in the game today. Two years ago, when Cliff Lee and C. C. Sabathia faced off in the opening game of the World Series, it was a slap in the face to all Indian fans, who could only dream of what might have been if the Tribe had been able to keep them both. The team also dealt Jake Westbrook, Kerry Wood, Ryan Garko, Aaron Laffey, Ben Francisco and fan favorites like Casey Blake and Victor Martinez.
Whenever a team has a fire sale with its' star players like the Indians have the last few years, the only hope for the fans is that a miracle happens and the "prospects" acquired for the stars actually turn out to be real players. It's early, but that may actually be happening in Cleveland this season. The young Indians, as of Sunday, have ripped off seven consecutive wins and played some impressive baseball in doing it. Cleveland management may have ignited this current success with a transaction that didn't involve trading any players. The good fundamental baseball being played this year can be traced back to the hiring of Manny Acta as manager prior to last season. The Indians were a losing team last year, but one thing I remember about the season is that the losses were mostly due to the team fielding a young, inexperienced lineup and a young pitching staff that was a bit overwhelmed facing major league hitters, some for the first time ever. Despite the losing, to me the team was playing better fundamental baseball – fielding better, running the bases a lot better, and actually executing sacrifice bunts – than it ever did under former skipper Eric Wedge, even in the seasons that Wedge guided them to the playoffs.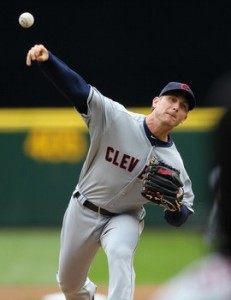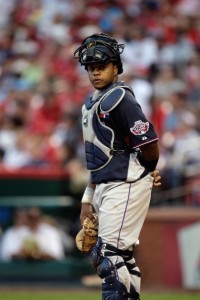 Pitcher Josh Tomlin (left) and catcher Carlos Santana.
The one recognizable player the Indians have, centerfielder Grady Sizemore, has battled injury problems and started this season on the disabled list. Michael Brantley has filled in admirably, both in centerfield and in the leadoff spot. The Tribe's lineup is dotted with youngsters acquired in trades – catcher Carlos Santana, first baseman Matt LaPorta, shortstop Asdrubal Cabrera and outfielder Shin-Soo Choo (above). The pitching staff is loaded with young talent, like Carlos Carrasco (above), Justin Masterson, Josh Tomlin (above) and closer Chris Perez. Management added some experienced players with postseason backgrounds in second baseman Orlando Cabrera and utility man Adam Everett. The one player not traded away – designated hitter Travis Hafner – is healthy and off to a good start at the plate. The impressive thing about the Indians' pitchers is that, so far, they are trusting their "stuff" and throwing strikes, a tribute to pitching coach Tim Belcher.
This team is likely to come back down to earth at some point, but the feeling here is that Acta is the type of manager that will keep them competitive throughout the season. They may be too young to be a playoff contender, but hopefully they'll make some noise in the AL Central race. Then again, who ever expected the San Francisco Giants to accomplish what they did last season?