Movies about sports don't usually measure up to  films that wind up getting Oscar buzz for being dramatic or memorable, but the movie "42" , chronicling Jackie Robinson's signing with the Brooklyn Dodgers, is more than just a run-of-the-mill sports movie. It's an honest portrayal of an important event in American history. Sports often mirror society and that was never more apparent than when Robinson began his journey as the first African American player to break baseball's color line in 1947. The film includes some dramatic scenes chronicling the mental and physical abuse Robinson faced as he made history in his rookie season. The movie has an outstanding cast, with newcomer Chadwick Boseman playing Robinson, and perhaps the best performance in the film is Harrison Ford's portrayal of Brooklyn Dodger general manager Branch Rickey.
Harrison Ford as Branch Rickey
 Robinson faces prejudice from not only opposing teams and fans, but even his own teammates, who start a petition to keep from having to play on the same team with him. He is intentionally beaned in the head by a Pittsburgh pitcher and spiked in the calf purposely by Enos Slaughter. One of the most brutal scenes in the movie is when Phillies' manager Ben Chapman, played by Alan Tudyk, comes out of the dugout and continuously heaps verbal abuse on Robinson when he's at the plate. The scene is uncomfortable to even watch, yet the film's producer says the language was actually cleaned up for the movie. Philadelphia's team management winds up being criticized by sportswriters for Chapman's behavior, so Chapman is ordered to pose with Robinson for a conciliatory photo to try and save face. Robinson relunctantly agrees to the photo, with some persuasion from Rickey, and Jackie suggests they pose holding a bat, "so we don't have to touch skin." The actual photo is below.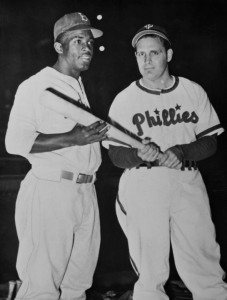 Jackie Robinson and Ben Chapman (actual photo)
The film has some light moments, such as the scene when Dodger pitcher Ralph Branca, played by Hamish Linklater, approaches Robinson after a game and asks why he always waits until the entire team is finished showering before he showers himself. Robinson explains that he doesn't want to make anyone uncomfortable, but Branca tries to convince him that he shouldn't feel that way. When he blurts out "c'mon, Jackie, shower with me", he gets a laugh from Robinson and then tries to backtrack from the comment. Overall, the movie is uplifting, as Robinson's Dodger teammates eventually come to respect him as a player and a man, and  defend him in the beaning and spiking incidents. One of those teammates was Bobby Bragan, who I actually remember as a major league manager when I first started to follow baseball in the 1960s. Bragan storms into Rickey's office and demands to be traded rather than play alongside Robinson, but after a week rescinds the demand. It's not mentioned in the movie, but Bragan later was quoted as saying that he changed his mind because "after just one road trip, I saw the quality of Jackie the man and the player, and told Mr. Rickey I had changed my mind and I was honored to be a teammate of Jackie Robinson." When Bragan attended Rickey's funeral in 1965, he stated that he decided to attend because, "Branch Rickey made me a better man." Those types of stories are the real legacy of what Robinson accomplished by running the gauntlet of racism during that initial season in major league baseball, and why his story is so much more than a sports biography. Robinson truly did change history.