Television today is loaded with various reality shows. They are everywhere and range from the interesting to the ridiculous. Another type of show that has become popular is the "list" show, where topics like "Best TV Moms Of All Time" or "Greatest One Hit Wonders of the '80s" are covered, usually by a group of washed-up celebrities. I find these shows interesting since they stir up debates over whatever topic they are listing, and I've decided to begin doing the same thing on this blog with sports topics. I'll start today with a list of the 5 greatest NHL goaltenders of all time. This was a tough list to compile, since there have been so many great ones over the years. I've left off the list a couple who are probably a bit underrated because they played on talent-laden teams – Billy Smith of the New York Islanders and Grant Fuhr of Edmonton. There are a couple who will be on most people's list but didn't make the cut on mine – Gerry Cheevers and Dominik Hasek. Bernie Parent was a tremendous goalie but doesn't have the longevity of the others. The one man who was toughest to eliminate from the final list was Johnny Bower, who helped Toronto win 3 Stanley Cups in the 1960s. He was one of the best and played for many years, but in my opinion was one of the guys who "hung around" during the expansion days long past his best years. Despite leaving Bower off the list, 3 of my top 5 are old school guys from the 1950s and '60s who played a lot of their careers without masks and without the advantage of the modern equipment and padding that today's goalies have. Here are my choices: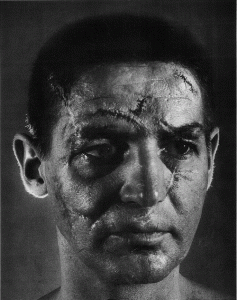 1. Terry Sawchuk – I featured the photo above on an earlier post where I proclaimed Sawchuk as the greatest goalie of all time. He played most of his career in the pre-mask era and his face shows the effects. During his career, he won 4 Stanley Cups and 4 Vezina Trophies, and despite not being technically sound, he stopped nearly everything and was known as a great competitor. He had 103 shutouts in his career, the most in history until Martin Brodeur surpassed him. In my opinion, he deserves the top spot on this list for courage alone.
2. Patrick Roy – if this were a top ten list, it would probably have 4 Montreal goalies on it. Roy is the best goaltender on a franchise that defines the sport. He won 4 Stanley Cups, 2 with the Canadiens and 2 in Colorado, and was the Conn Smythe Trophy winner 3 times. Roy was one of the greatest clutch performers at the position of all time.
3. Martin Brodeur – although my list favors the old-timers, you can't ignore excellence no matter what era it was achieved in. Brodeur has won 3 Stanley Cups and 4 Vezinas, and is the only active goalie on my list, so his stats are still fluid. As stated above, Brodeur surpassed Sawchuk for all-time career shutouts, and like Roy did in winning his 2 Cups in Montreal, he backstopped teams that had no business winning championships in New Jersey. Like Roy, he was the difference in his team being championship calibre and being average.
4. Jacques Plante – another old school Montreal goalie makes the list. When you look at his career numbers, you have to figure that he should be higher – he backstopped the Habs to 5 CONSECUTIVE Cups in the late '50s, won 7 Vezina Trophies and even garnered a Hart Trophy as league MVP once. Those Montreal teams did have some of the greatest players of all time on their roster however. Plante was an innovator also – he was the first to don a mask (after taking a shot to the nose).
5. Glenn Hall – another of the greats from hockey's golden age. Hall won 2 Cups and 2 Vezinas, but his greatest career achievement may be this – he started 502 consecutive games in goal. There is no way any of today's pampered players ever touch that mark, which obviously is an NHL record.