Two once-proud NFL franchises who have fallen on hard times this season meet on this week's schedule. That would be the New York Giants and San Francisco 49ers, and our Throwback Thursday feature goes way back, to November 17, 1963, for a game played between them. It was a week prior to the Sunday slate of games that the NFL decided to play after President Kennedy's assassination, which would turn out to be a controversial decision. This game, although not particularly significant, was the first encounter that Giants' quarterback Y.A. Tittle had against the team that traded him away – the 49ers. Tittle was part of San Francisco's vaunted "Million Dollar Backfield" of the 1950s but in 1961 he was dealt to the Giants, a trade he wasn't thrilled about. If a trade had to happen, he would have preferred to stay on the West coast and be dealt to the Los Angeles Rams. He wasn't initially received well by the players in New York, who were loyal to their current QB at that time, veteran Charlie Conerly. He eventually won the starting job, won his teammates over and guided the Giants to 3 consecutive NFL title games, although they lost them all.
In this particular game, it was the first chance for the venerable old signal caller to get "revenge" on his former team. Tittle, however, wasn't really a vindictive person and never really vowed to make the 49ers pay for trading him, like fiery Bobby Layne did when the Detroit Lions dealt him in the '50s. If Tittle did have any designs on revenge, however, he accomplished them this day. He threw for 284 yards and 4 touchdowns as the Giants won in a rout 48-14. He hit Joe Morrison for a pair of TDs and spread the wealth by hitting Del Shofner and Frank Gifford for a TD each. Morrison also ran for 98 yards while Phil King rushed for over 100. New York called off the dogs and pulled Tittle later in the game, and backup QB Glynn Griffing added another TD toss to Gifford. The Giants wound up amassing 568 yards in total offense, an unheard of amount in those days, in blowing out the lowly Niners.
The assassination of the president 5 days later left this game all but forgotten but it was a milestone in the long and successful career of Tittle, a Hall of Famer and one of the sport's all-time legends. I have featured Tittle on quite a few Rayonsports blog posts over the years, even though I was a die-hard Cleveland Browns' fan at the time and the Giants and Browns were bitter rivals. It's just an example of how a person gains respect for the game's true warriors as time passes.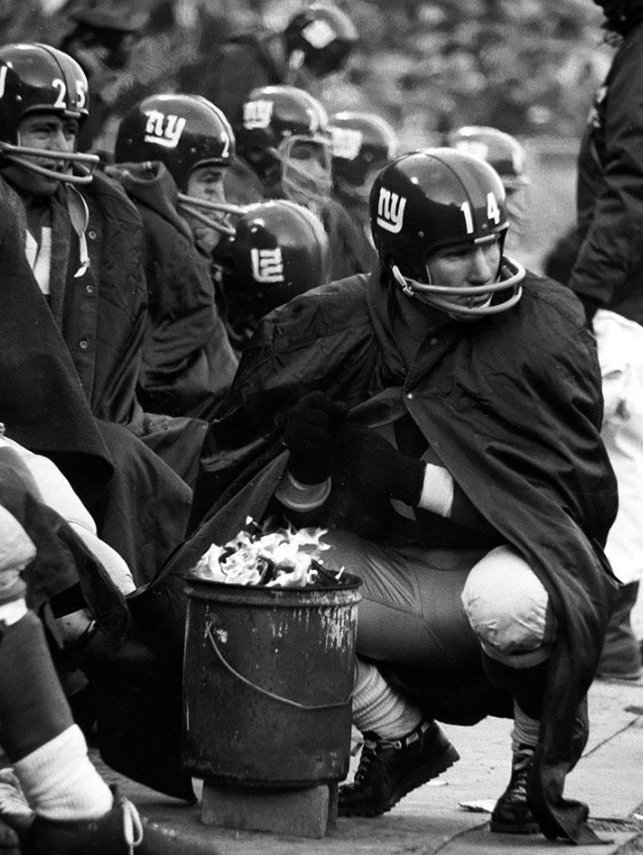 Y.A. Tittle rallies the troops beside a 1960s version of the sideline heater