The NFL enters their final week of play this weekend, and the schedule includes a match between 2 NFC East rivals who we already featured in a TBT post earlier this year – the New York Giants and Washington Redskins. In fact, this is the third time we've featured this matchup, having highlighted a 72-41 Redskin victory over the Giants in 1966, back in 2013. This game, like the one we featured earlier this season, took place in an era when the Giants were a dominant force in the league, while the 'Skins were an also-ran. On this day, October 28, 1962, Giant quarterback Y.A. Tittle became only the fourth signal caller in pro football history to throw for 7 touchdowns in a single game, a feat that to this day has only been accomplished 7 times in history and still stands as an NFL record. Prior to this game, the only times a QB had done this happened in 1943, by Sid Luckman of the Chicago Bears, in 1954 by Adrian Burke of the Philadelphia Eagles, and in 1961, in the old American Football League, by the Houston Oilers' George Blanda.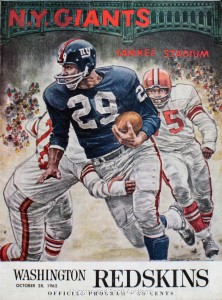 Giants – Redskins 1962 Game Program
The game was a see-saw battle in the first half as Tittle and Washington rookie Norm Snead took turns filling the air with scoring passes. Tittle, who would wind up being league MVP in '62, took charge in the third and early fourth quarter, racking up 4 of his 7 TD throws to turn a tight 21-20 game into a 49-20 rout. Snead led a late charge to close the gap to 49-34 at the final gun. Tittle's feat overshadowed a pretty good showing by the rookie Snead, who threw for 346 yards and 4 touchdowns, including a couple of long bombs to future Hall of Famer Bobby Mitchell. It was Tittle's day in the sun, however, as he passed for a remarkable 505 yards and the 7 TDs on 27 of 39 passes, numbers that are common in today's game but were extremely rare in the "three yards and a cloud of dust" era. The venerable old Giant quarterback connected all day with his 2 favorite targets, as Del Shofner caught 11 balls for 269 yards and a TD, and Frank Gifford hauled in 4 for 127 yards and a score. It was a sweet revenge game for New York tight end Joe Walton, who had played for Washington for 4 years before being traded to the Giants prior to the 1962 season. Walton caught 6 passes from Tittle for 63 yards and 3 touchdowns, including the record-tying seventh one.
Not only did Tittle and the Giants take control of this game in the third quarter, they took control of the Eastern Conference, as the loss was Washington's first of the season after a 4-0-2 start, sending them on a tailspin to a 5-7-2 final record. The Giants used the win as a springboard to a 12-2 final record and a second straight NFL championship game appearance against the Green Bay Packers.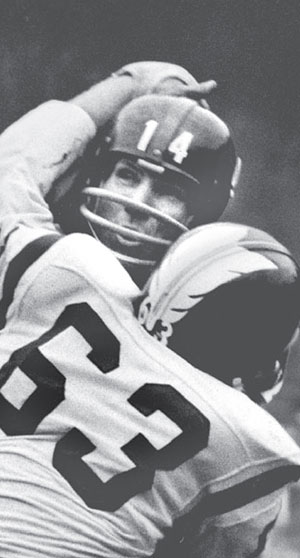 Y.A. Tittle pressured by Redskins' defense