The surging Tampa Bay Buccaneers face the New Orleans Saints on this week's NFL schedule, trying to keep their playoff hopes alive. There was a time when the Tampa Bay franchise couldn't dream of making the playoffs, and that's the subject of this week's Throwback Thursday feature. It happened on December 11, 1977 – a game played between these 2 teams, the Bucs and the Saints. It was historic because it was Tampa's first victory in franchise history. A team's first win ever is always a memorable moment, but this day was even more historic, because the hapless Bucs went nearly 2 full seasons before finally breaking into the win column. The NFL played a 14 game schedule at the time, and the Bucs went winless, 0-14, in their inaugural season in 1976. They followed that up with 12 straight losses in '77, before meeting up with the equally inept Saints on this day.
Tampa's first 2 years in the league were so laughable that if you check out the old NFL films "blooper" features from the mid-'70s, you'll find that they're loaded with Buccaneer lowlights. Their head coach, John McKay, had been a highly-respected college coach at Southern California before taking the Bucs' job, and luckily, for his own sanity, he had a great sense of humor. Once he was asked in a post-game press conference to comment on his offense's execution. He answered "I'm in favor of it." Another time, summing up his team's performance in a game: "We didn't tackle well today, but we made up for it by not blocking." After a 42-0 loss to the Steelers, McKay was asked what his thoughts were during the game. He responded: "I felt like leaving the stadium and hitch-hiking home." His joking manner and the team's play earned the Bucs the nickname "The Yucks".
Although they were a butt of all kinds of jokes in their early days, the Buccaneers' defense had always been a decent unit, fighting hard in most games even though they had little chance of ever winning. Against the Saints on this day, however, they took matters into their own hands. On a day when the offense, led by journeyman quarterback Gary Huff, played with its' usual ineptness, the defense hammered the Saints all day, forcing 7 turnovers, including 6 interceptions, 2 of which were returned for touchdowns by Mike Washington and Richard Wood. Also, Greg Johnson recovered a fumble in the end zone for a TD. That meant 3 of the Bucs' 4 touchdowns that day were provided by the defense in a 33-14 thrashing. Huff pitched in with a short scoring pass to Morris Owens, but he threw for only 96 yards total on the day. In fact, the 2 teams combined for only 488 total yards on the day. In today's game, the top-flight quarterbacks have passing yardage totals for a single game like that regularly. There were also 18 penalties called on the day against both teams, totaling 157 yards, another sign that it was a game played between 2 sad sack franchises.
All jokes aside, this was a day for the Tampa Bay franchise to celebrate, especially the defense, which was a proud unit despite all the losing and finally was rewarded for it's efforts.  Players like Washington, Wood, Johnson, LeeRoy and Dewey Selmon, Dave Lewis and Jeris White finally got a moment in the sun. Incidentally, the Bucs finished the '77 season on a high note, defeating the St. Louis Cardinals 17-7 in their finale to finish 2-12.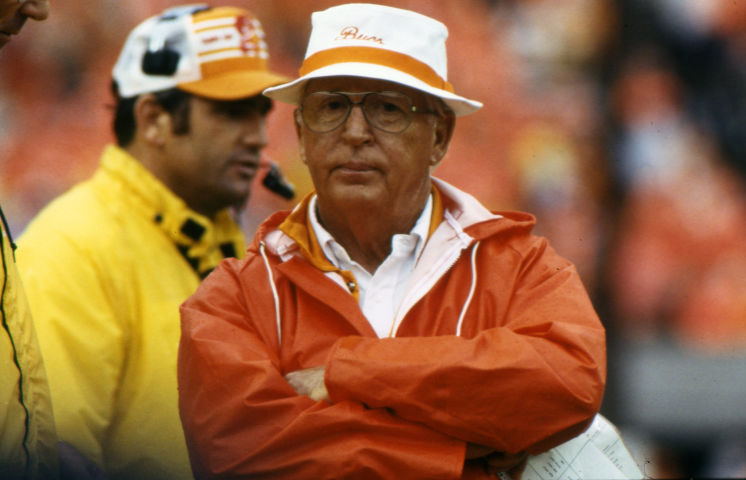 Tampa Bay's first head coach, John McKay