Week 10 of the NFL season is upon us, and an intriguing matchup on this week's slate of games has the Cleveland Browns visiting Foxborough to meet the New England Patriots. For Throwback Thursday this week, we'll feature a playoff game between these 2 clubs played on New Year's Day, January 1st, 1995. The game matched mentor against student in the head coaching ranks, as New England's Bill Parcells, a two-time Super Bowl winning coach with the New York Giants earlier in his career, faced off against his former New York defensive coordinator, Bill Belichick, now the head man with the Browns.
Parcells and a young Belichick meet before the game
The Browns entered the game with a better record and were favored at home in venerable old Cleveland Municipal Stadium. The only first quarter scoring came on a 30 yard Matt Stover field goal for the Browns, as the defenses of both clubs stymied the offenses. In the second quarter, New England's young second year quarterback, Drew Bledsoe, put his team in the lead with a 13 yard touchdown pass to LeRoy Thompson. Cleveland matched that as their signal caller, Vinny Testaverde, tossed a short scoring pass to Mark Carrier to put the Browns ahead 10-7. A Matt Bahr field goal for the Patriots tied the score at halftime, and it was sure to continue to be a defensive struggle for the final 30 minutes. When all was said and done, the Cleveland defense did more damage than Parcells' squad. They harassed Bledsoe all day and forced him into throwing 3 interceptions. One of the Browns' biggest defensive contributors on the day was backup safety Louis Riddick, starting due to injury. The future Monday Night Football analyst had an interception and led his team in tackles. Testaverde, the journeyman QB who was expected to be outplayed by Bledsoe, had perhaps the game of his career. He completed 20 of 30 passes for 268 yards, and engineered a third quarter drive that ended with LeRoy Hoard scoring on a 10 yard run to put Cleveland up 17-10. It was all the scoring the Browns would need. The teams traded field goals in the final quarter, and the Browns earned a 20-13 victory. Testaverde's favorite target on the day was wide receiver Michael Jackson, who moonwalked his way to 7 catches for 122 yards.
Cleveland's win propelled them into a showdown with their bitter division rivals, the Pittsburgh Steelers, the following week. The success would end there, as Pittsburgh soundly defeated them 29-9. Things got worse from there. Browns' owner Art Modell announced during the 1995 season that he was moving the franchise to Baltimore, becoming the most hated man in the city.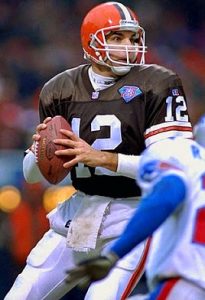 Browns' QB Vinny Testaverde