It's Thanksgiving week on the NFL's schedule this week, with the traditional Turkey Day games played in Detroit and Dallas. The Lions, who have hosted one of the traditional games since 1936, take on the Minnesota Vikings in a key NFC Central matchup. For this week's Throwback Thursday feature, we'll go back to another Thanksgiving contest played between these 2 franchises on November 27, 1969. The Green Bay Packers were on the decline at this point and these 2 clubs were battling for dominance in the Central Division, so this game was an important one. The Lions' home base at the time was still the old Tiger Stadium, so the game was played on a grass field in the snow and cold, something that makes this era of pro football very special to me, compared with today's sanitized dome stadiums. Minnesota, under coach Bud Grant, came prepared to play on this day. Their vaunted "Purple People Eater" defense dominated the game, shutting out the Lions 27-0 to take control of the division on their way to winning the NFL title that year. They lost to the Kansas City Chiefs in the Super Bowl, but it was a pretty great year for them nonetheless.
The Viking defense harassed Lion quarterbacks Greg Landry and Bill Munson all afternoon, coming up with 2 interceptions and 7 sacks (unofficial since the sack was not an official recorded statistic back then).  Meanwhile, the Minnesota offense methodically put together scores in each of the first 3 quarters, with Dave Osborn pounding in from a yard out in the first quarter, Fred Cox hitting a second quarter field goal and Joe Kapp tossing a short 6 yard touchdown pass to Oscar Reed. The Purple People Eaters put the finishing touches on the victory in the final quarter when defensive end Jim Marshall, possibly pro football's biggest Hall of Fame snub, intercepted a pass and then flipped the ball with a no-look lateral to teammate Alan Page, who finished the play by rumbling into the end zone for the TD.
The game was one-sided and the Vikings clearly established their dominance of the division with the win, and statistically there wasn't a terrific amount of numbers put up by either team. That was typical of the era, however, so it was a standard NFL game at the time. Despite the lack of exciting big plays that fans demand in today's game, it was still a fun game to watch. The weather conditions were part of the game's charm at the time. Prior to sitting down to watch this game, fans may have taken part in a sandlot football game in similar conditions out in the yard or at a local playground, a tradition that some true diehard fans still uphold today.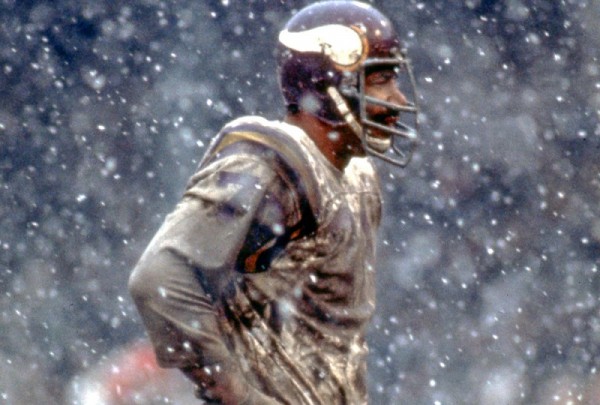 Vikings' Jim Marshall led a dominant Thanksgiving performance