One of the most valuable commodities for any major league baseball team to have is good left-handed pitching. Today I am listing my choices for the five top left-handed starting pitchers of all time. I did not include players from baseball's old "dead ball" era like Eddie Plank and Lefty Grove, since their stats are somewhat skewed. My choices are therefore limited to players that I've actually seen pitch. Here are my picks for the 5 greatest "southpaws" of all time:
1. Sandy Koufax – Koufax has been called a "Supernova" because he played 12 seasons in the majors, but his best work was compressed into 6 years, from 1961 to 1966, when he was the most dominant pitcher in the game. He won 3 Cy Young Awards, and was voted the award unanimously all 3 times. He was a seven time all star, won 4 World Series and was Series MVP twice. He pitched 4 no-hitters in his career, and in 1963 was voted NL MVP, an award rarely given to a pitcher. My personal memory of Koufax, which pushed him to the top of this list, is the 1965 World Series when his Los Angeles Dodgers met the Twins. He refused to pitch the opening game because it fell on the Jewish holy day of Yom Kippur, and the Twins won the first 2 games. After the Dodgers battled back to tie the Series, Koufax pitched a complete game shutout in Game 5, then after the Twins won to force a game 7, he came back on 2 days rest and pitched a 3-hit shutout to clinch the title for the Dodgers.
2. Whitey Ford – it amazes me how little respect this guy gets when people discuss the greatest all-time pitchers in baseball history, and that probably is due to the fact that he played on New York Yankee teams, for 16 years, that were loaded with marquee players. Still, to his teammates and Yankee fans, Ford is "The Chairman of The Board". He was a 10 time all star and pitched for 6 World Series-winning teams in New York. He won the Cy Young Award in 1961, when only one Cy Young was awarded, not one in each league, and was also World Series MVP that year. Ford was a dominant post-season pitcher, with 10 World Series wins. He started Game One in a World Series for the Yanks 8 times. The one year he didn't, in 1960, the Yanks lost to the Pittsburgh Pirates in seven games, and Ford only was able to start twice, winning both times.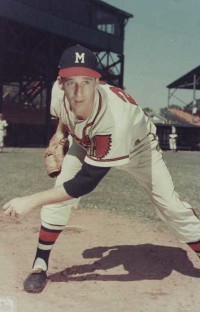 3. Warren Spahn – if this list were based on longevity alone, Spahn would be at the top. He pitched for 21 years, and was a 20-game winner 13 times, including a 23-7 season when he was 42 years old. His 363 career wins are the most of any left-hander in baseball history. Baseball awards the "Warren Spahn Award" annually to the the game's top southpaw. Really, you could rearrange the top 3 on this list in any order and get no argument from me. A story that best describes Spahn – on July 2, 1963, at age 42, he was involved in an epic pitchers' duel with the Giants' 25-year old ace, Juan Marichal. Both hurlers threw complete games in a battle that lasted 16 innings, finally decided, 1-0, by a Willie Mays solo homer in the bottom of the 16th off Spahn. Marichal threw 227 pitches that day, Spahn 201 in the loss.
4. Steve Carlton – Carlton's career ended in 1988, and one stat he possesses is an indictment of today's pitchers. He is the last pitcher from any team to throw 300 innings in a season. Also on his resume are 4 Cy Young Awards, 10 all star appearances, 2 World Series titles, a plaque in the Hall of Fame and even a Gold Glove Award for his fielding. In 1972, pitching for the last place Phillies, "Lefty" won 27 games, a remarkable feat considering his team won a total of 59 games all season.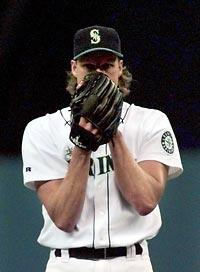 5. Randy Johnson –  "The Big Unit" was clearly not only one of the top southpaws of all time, but one of the top pitchers period. He won more Cy Youngs (5) than the others on the list, had more career strikeouts, and threw 2 no-hitters, including a perfect game. He is third on the all-time list for hit batsmen, so he was a throwback intimidator who used his 100+ MPH fastball and cutting slider to his advantage. Johnson was also a 10-time all star, and not only won a World Series (with the Arizona Diamondbacks) but was MVP of the Series. The stat that landed him at the #5 spot is his paltry 100 complete games in his 22-year career. By comparison, Spahn had 382, Carlton 254, Koufax 137 in 12 seasons, and Ford 156 in 16 seasons.