In the long history of major league baseball there have been a lot of effective pitchers who carved out Hall of Fame careers, but there has also been a special breed who combine talent, competitiveness and a mean streak to become experts in the art of not only pitching effectively, but striking fear in the hitters they face. Here is my list of the five most intimidating pitchers of all time: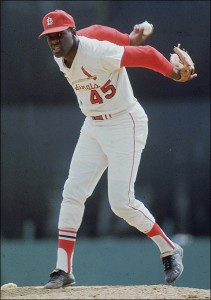 1. Bob Gibson – this Hall of Famer was on my list of 5 players who changed the game, since his dominance led to rules changes to add more offense. He may have been the most intimidating pitcher of all time. He was extremely competitive and downright surly. Hank Aaron, the greatest home run hitter of all time, said this about him: "you don't dig in against Bob Gibson, he'll knock you down. He'd knock down his own grandmother if she dared to challenge him. Don't stare at him, don't smile at him, don't talk to him. He doesn't like it. If you happen to hit a home run, don't run too slow, don't run too fast. If you happen to want to celebrate, get in the tunnel first. And if he hits you, don't charge the mound, because he's a Gold Glove boxer."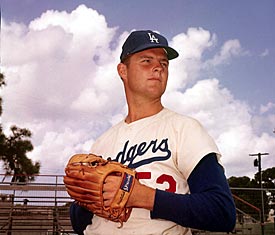 2. Don Drysdale – like Gibson, he had Hall of Fame talent and a legendary mean streak. Here are some quotes from Drysdale's peers – from Dick Groat: "hitting against him is like going to a dentist appointment." From Mickey Mantle: "I hated to hit against Drysdale. After he hit you he'd come around, look at the bruise on your arm and ask, "do you want me to sign it?" From Mike Shannon: "Don Drysdale would consider an intentional walk a waste of three pitches. If he wants to put you on base, he can hit you with one pitch."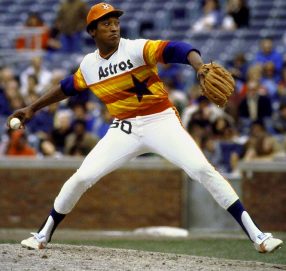 3. J.R. Richard – he spent his career with the Houston Astros, and suffered a stroke in 1980 which shortened that career. But between 1976 and 1979, he was one of the most dominant pitchers in the majors. He never had a reputation as a head hunter like Drysdale or Gibson – his intimidation status came from his imposing 6'8″,  220 lb. frame and his tremendous velocity (his fastball was routinely clocked above 100 MPH and his slider at 98). On top of that velocity was the fact that Richard had control problems. Most hitters can can handle a pitcher who throws hard but get nervous when even that pitcher has no idea where the ball is going.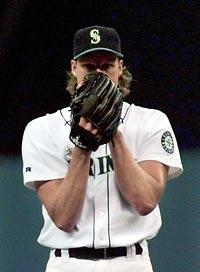 4. Randy Johnson – the only left-hander on this list, "The Big Unit" was intimidating, like Richard, because of his size (6'10") and the velocity of his pitches. He had a long 22-year career, pitched 2 no-hitters and won 5 Cy Young awards, so he was much more than just a hard thrower. He was intimidating but not in the same league of "meanness" as some other hurlers from the 1960s. Still, he is one of the all-time scariest pitchers for hitters to face. An unforgettable baseball moment is when Johnson, in an All Star game, threw a pitch behind and over the head of former Phillie John Kruk.
5. Nolan Ryan – like Johnson, Ryan had longevity, pitching 27 seasons. Like Gibson and Drysdale, he was a throwback to the early intimidators, actually starting his career in 1966. Like Richard, he had control problems. His career won/loss record was barely over .500, but he holds the major league records for both career strikeouts and no-hitters (7). He also walked more batters than any other pitcher. He pitched in four different decades, and maintained his velocity and intimidating style into his 40s.