In the past I've done "list" posts of what I consider the best player nicknames in all four major sports. Now, after careful consideration and painstaking research (thank you Wikipedia and Google), I will publish my lists of the best team or tandem nicknames in those four sports, starting with basketball. Of all the major sports, there aren't very many memorable team nicknames to choose from, so I had to consider not only pro teams but also clubs from the college and even Olympic ranks. Here's the list of the 10 best basketball team or tandem nicknames:
1. Showtime (1980s Los Angeles Lakers) – the 1980s Lakers, led by coach Pat Riley, were the dominant club of the decade who earned the nickname with their flashy, upbeat style of play. Their roster included some of the league's All-time great players like Kareem Abul Jabbar, Magic Johnson, James Worthy and Jamaal Wilkes, and won a total of five NBA championships in the decade.
2. The Bad Boys (1990 Detroit Pistons) – coached by Chuck Daly, the Pistons won back-to-back NBA titles in 1989 and '90 with a rough-and-tumble style of play that featured tenacious defense and rugged physical play that rankled opponents and earned them their moniker. Players like Bill Laimbeer, Rick Mahorn, John Salley and especially Dennis Rodman were among the most hated by their peers in the league at the time. The team wasn't just a goon squad, however, as players like Isiah Thomas, Joe Dumars and Adrian Dantley added enough offense to turn the club into a champion.
3. Boston Three Party (Boston Celtics) – one of the NBA's most storied franchises hit a low point in 2007 following the death of their long time patriarch, Red Auerbach, but the team's GM at the time, Danny Ainge, made bold moves to acquire two superstars, Kevin Garnett and Ray Allen, to go with the team's star of the era, Paul Pierce, forming a potent threesome that would be dubbed with this nickname and that coach Doc Rivers would mold into a championship club in 2008.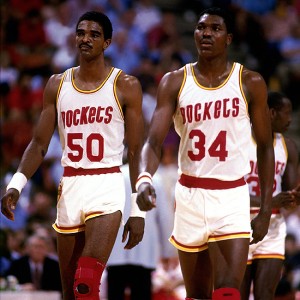 4. Texas Twin Towers (Houston Rockets' Centers) – this nickname was more recently used for San Antonio's big man duo of David Robinson and Tim Duncan, but the original "Twin Towers" are former Houston Rockets Ralph Sampson and Hakeem Olajowan. They were a pair of seven footers who patrolled the front line for the Rockets in the 1980s. They reached the NBA finals once but lost to the Boston Celtics. They never won a title as a tandem, but Olajuwan led the Rockets to 2 in the 1990s.
5. Dream Team (U.S. Olympic Team) – this club was put together to represent the United States in the Olympic Games in 1992, the first year NBA players were declared eligible to compete in the games. The media dubbed them the "Dream Team" and they truly were, with a stocked roster that included stars like Michael Jordan, Magic Johnson, Larry Bird, Patrick Ewing, John Stockton, Karl Malone and Charles Barkley. Coached by Chuck Daly, the U.S. contingent easily won the gold medal.
6. Fab Five (Michigan NCAA Champs) – we dug into the college ranks for this team nickname, but this group, the University of Michigan hoops team of the early 1990s, earned their nickname. "The Fab Five" were a team of five freshmen – Jalen Rose, Juwan Howard, Chris Webber, Jimmy King and Ray Jackson, who all started and reached the Final Four two years in a row.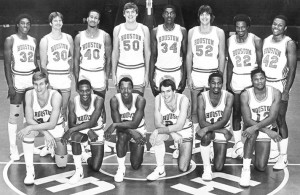 7. Phi Slama Jama (University of Houston 83-84) – another college team, this team, the University of Houston Cougars, got their name for the style of play they exhibited, an exciting fast break game that featured breath-taking dunks. Two of their players, Olajuwan and Clyde Drexler, went on to have stellar NBA careers. This club is credited with popularizing the "above the rim" style of play that is commonplace in both college and pro ball today.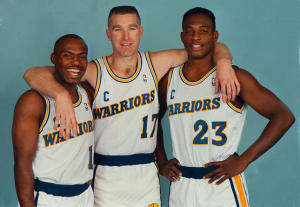 8.  Run TMC (Golden State Warriors 1990s) – this nickname was a play on the rap group Run DMC, with TMC representing the first names of a trio of sharpshooters who played for the Golden State Warriors – Tim Hardaway, Mitch Richmond and Chris Mullin. They played together for two seasons, and under coach Don Nelson, featured a fast-paced, run-and-gun style.
9. Superman, Batman and Rodman – this unit came to be when Dennis Rodman, formerly a hated rival with the Detroit Pistons, joined ranks with Michael Jordan(Superman) and Scottie Pippen(Batman) to form an almost unbeatable threesome for the 1990s Chicago Bulls. In fact, after Rodman was acquired, the Bulls won an amazing 72 games, against only 10 losses, on their way to winning the 1995-96 NBA title, their fourth championship in a six year period.
10. The Heatles (Miami Heat) – following an NBA trend of building a roster made up of a "Big Three" (see Boston Three Party above), Miami Heat GM Pat Riley went out and signed a pair of superstars – LeBron James and Chris Bosh – to join his own star, Dwyane Wade, and the group eventually was dubbed The Heatles, after winning a pair of NBA championships.