The New York Jets will attempt to qualify for the NFL playoffs this weekend by defeating their AFC East rivals, the Buffalo Bills. This week's Throwback Thursday post harkens back to another season finale played between these two franchises, on December 16, 1973. Neither team had any postseason hopes, but the Bills had their eye on an individual accomplishment for their star running back, O.J. Simpson, who had a chance to break Jim Brown's single season rushing yardage record. Brown's record of 1,863 yards in a season had stood since 1963, and the Buffalo running back needed 61 yards to eclipse the mark.
The Bills dominated the game, building up a 28-7 lead through three quarters, allowing them to concentrate on getting Simpson the record. Running behind his offensive line, nicknamed "The Electric Company" (because they turned on The Juice, O.J.'s nickname at the time), Simpson eclipsed the record easily. Early in the fourth quarter, members of the line realized it was possible for Simpson to reach the unreachable 2,000 yard total, never done before in pro football. It was their best offensive weapon anyway, so the Bills continued to feed Simpson the ball, and he wound up carrying 34 times for 200 yards, the third time in the '73 season that he went over 200 in a game, to finish the year with a record-breaking 2,003 yards rushing. The 2,000 yard mark has been eclipsed a few times since Simpson did it, but he remains the only player to accomplish the feat in a 14 game season, as the NFL went to a 16 game slate in 1978.
Although they didn't make the playoffs, 1973 was a successful season for the Bills. They finished 9-5, their first winning season since 1966, found a new quarterback in rookie Joe Ferguson, who would be a mainstay there for a decade, and with O.J. and his fullback Jim Braxton carrying the load, also set an NFL record for the most rushing yards in a season for a team. Braxton actually ran for 98 yards and two touchdowns in Simpson's record-breaking game. How much did the Bills feature Simpson on this day in the attempt to get the record? Ferguson's stat line was 3 of 5 passes for 70 yards. Simpson's personal life took a complete nose-dive after his playing days ended, but for one shining moment on a cold December day in 1973, he was king of the football world.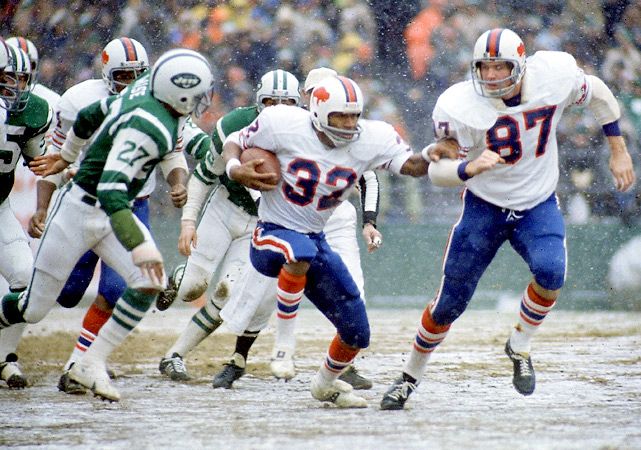 O.J. Simpson on his way to a 2,003 yard rushing season in 1973