It's officially Super Bowl week, and Super Bowl 50, the golden anniversary of the NFL's championship game, will be played this Sunday between the Carolina Panthers and Denver Broncos. I usually post some Super Bowl stories or memories of past games during the week preceding the game, and for starters, this post will be a "list" post, which I've done many of. This is a list of the five most obscure Super Bowl heroes of the first 49 years: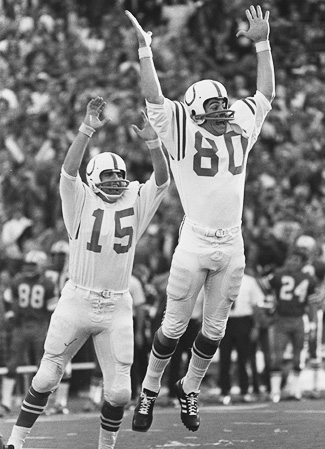 Jim O'Brien – he was a rookie kicker when he was placed in the pressure-packed position of having to kick the winning field goal in Super Bowl V, which was a game filled with errors that was dubbed "The Blunder Bowl". O'Brien made the kick, a 32 yarder which is the extra point distance in today's game, to give the Colts their first Super Bowl title.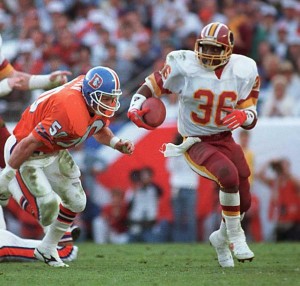 2. Timmy Smith – he was the ultimate Super Bowl one hit wonder. In the Washington Redskins' 42-10 rout of the Denver Broncos in Super Bowl XXII, Smith, a rookie, set an NFL record by rushing for 204 yards and 2 touchdowns. It was the only significant accomplishment of his career, as he played only parts of 3 seasons in a career hampered by injuries and suspicions of drug use.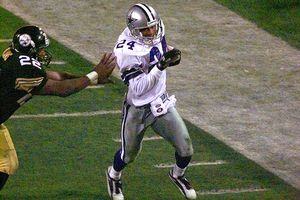 3. Larry Brown – in Super Bowl XXX, he intercepted a pair of Neil O'Donnell passes to help his Dallas Cowboys defeat the Pittsburgh Steelers, and his efforts earned him the game's MVP honors. He parlayed that accomplishment into a big free agent contract with Oakland, then quickly faded into oblivion after making the move.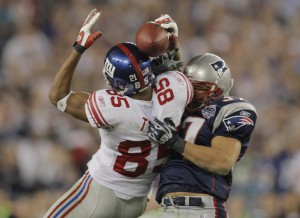 4. David Tyree – he made possibly the most famous catch in Super Bowl history – the "Helmet Catch" – in Super Bowl XLII, on a pass from Eli Manning to keep the New York Giants' winning drive alive as they upset the previously unbeaten New England Patriots. He clutched the ball against his helmet as he and defender Rodney Harrison fell to the ground, making an improbable grab. He was mostly an obscure special teams player prior to the catch.
5. Malcom Butler – he was an obscure undrafted free agent on the fringes of the New England Patriots' roster, but late in the game in Super Bowl XLIX, was sent out on the field as an extra defensive back as the Seattle Seahawks were driving toward the winning touchdown. He wound up making the play of the game, intercepting an ill-advised Russell Wilson pass at the goal line to preserve the win for his team. To his credit, Butler didn't let himself become a flash-in-the-pan player. He has developed into a dependable, starting cornerback, even earning a Pro Bowl berth this season.