The Buffalo Bills' 2013 draft was significantly different than past drafts under GM Buddy Nix, which tells me that new head coach Doug Marrone had a major say in what type of player his squad would feature. The Bills seemed to put a high priority on speed and toughness, and didn't shy away from players who carried off-field baggage. The Bills also may have found a gem among the undrafted free agents they signed after the draft, landing Da'Rick Rogers, a wide receiver from Tennessee Tech. Rogers finished his career at Tech after being kicked off the team at Tennessee for failing multiple drug tests. Rogers was considered a better player than 2 other Volunteer receivers who were drafted high – Cordarelle Patterson and Justin Hunter. Also, right after the draft, the Bills dealt LB Kelvin Sheppard, who was considered a major building block of the defense by the prior regime, to Indianapolis for LB Jerry Hughes, a former number one pick of the Colts who was an underachiever there. Hughes is considered a better fit for new defensive coordinator Mike Pettine's scheme. Here is a look at the Bills' draft picks: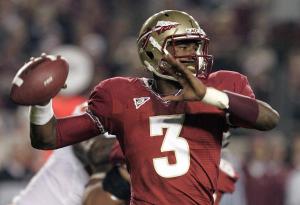 QB EJ Manuel 
1. EJ Manuel (QB – Florida State) – the Bills traded down from the eighth pick to 16th before choosing Manuel, but most experts still feel the pick was a "reach", and that Manuel could've been had much later. Still, he supposedly has a "higher ceiling" than any of the other QBs in this draft, once he gains experience. Manuel is a big, physical player with great athletic ability, and whether he works out or not will likely mean the difference between whether the team continues on the road to mediocrity or finally becomes a playoff contender.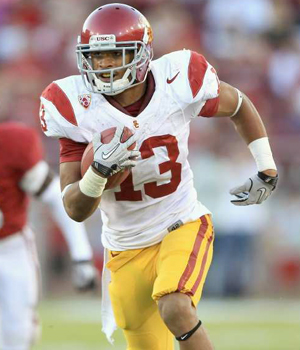 WR Robert Woods 
2A. Robert Woods (WR – Southern Cal) – all of the draft experts agree this was a great pick for the Bills, as Woods is considered the most "NFL ready" of any receiver available in the draft. He should be ready to step into the starting lineup from day one and be a terrific complimentary receiver to Stevie Johnson.
2B. Kiko Alonso (LB – Oregon) – Alonso was a bonus pick, acquired from the Rams for trading out of the eighth spot. He's supposed to be a quick, physical player who will add much-needed toughness to the Bills' defense. He has a DUI and burglary arrest on his record, so he's an obvious risk. However, strictly as a player, he seems to be a rangy linebacker who is a good tackler but can also be good in coverage. According to some scouts, he was the guy "making all the plays that Dion Jordan was supposed to be making". (Jordan was picked third overall by Miami). He has a great chance to be an opening day starter in the Bills' new 3-4 defense.
WR Marquise Goodwin
3. Marquise Goodwin (WR – Texas) – an Olympic hurdler, Goodwin is a speedster but wasn't even a starter for the Longhorns. Obviously, by releasing players like David Nelson and Donald Jones and then drafting players like Woods and Goodwin, Marrone is looking for more dynamic playmakers at the wideout spots. Goodwin is described as "highly athletic and surprisingly tough".
S Duke Williams
4. Duke Williams (S – Nevada) – draft experts universally gave the Bills high marks for this pick. Williams, like Alonso, is considered a tough player who should challenge Da'Norris Searcy for George Wilson's starting safety job. Some words used to describe Williams in draft scouting reports – grit, nastiness, thumper, enforcer.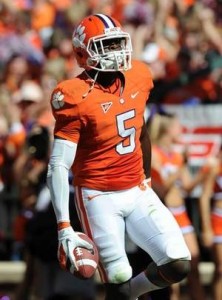 S Jonathan Meeks
 5. Jonathan Meeks (S – Clemson) – the Bills doubled up on safeties in the later rounds, which led to immediate speculation that they won't re-sign Jairus Byrd beyond his one-year "franchise tag" contract. I hope that's not true. The Bills can't afford to let young playmakers walk away. Meeks has good size and probably better coverage ability than Williams, and can play both strong and free safety.
6. Dustin Hopkins (K – Florida State) – Hopkins is described as "a special kicker" who has a great NFL upside. With incumbent K Rian Lindell in his mid-30s, he has a chance to make the roster, and has one advantage – his former holder at Florida State is current Bills' punter Shawn Powell.
TE Chris Gragg
7. Chris Gragg (TE – Arkansas) – another pick acquired from the Rams for moving down in round one. Gragg, for a seventh round pick, gets surprisingly high marks from the scouts. Some say he "can't block a lick", but that he could be a good downfield receiver in the right situation.