The Buffalo Bills entered the final day of the NFL draft with some holes left to fill on their roster, with four picks left to use to accomplish that. They entered the draft with a pair of fourth round choices but used one of those in a package they sent to the Chicago Bears in order to move up in round two to get Alabama linebacker Reggie Ragland. The other fourth rounder, a compensatory pick which was the final one of the round, was used to fill one of their remaining needs. GM Doug Whaley picked an interesting backup quarterback prospect, Cardale Jones from Ohio State. His college career was up and down – in his freshman season, after injuries decimated the Buckeyes' QB roster, he came in and led the team to the national championship. Then he came back the following year and was wildly inconsistent, eventually losing his starting job. A massive physical specimen at 6'5 and 253 lbs., his powerful arm earned him the nickname "12 Gauge" and there aren't any scouts who question his arm strength. His negatives mostly center around an inability to read defenses, which won't sit well with Bills' fans. Still, being a long term developmental project, his upside is exciting if he works hard to improve his game and turns out to be coachable. His size may intrigue offensive coordinator Greg Roman, who used EJ Manuel as a runner in some third down short yardage packages last season.
Cardale Jones (QB, Ohio State)
The Bills pulled a minor surprise in the fifth round when they added to what is already a strong running back group by picking Arkansas runner Jonathan Williams. Williams is a shifty back who dropped in the draft because he missed the 2015 season due to a foot injury. He had a brilliant 2014 season as a member of a Razorback "committee" approach to the running game, a role he'll probably have to play if he sticks on the Bills' roster. He did have some issues with fumbling, another trait that will draw the ire of Buffalo fans.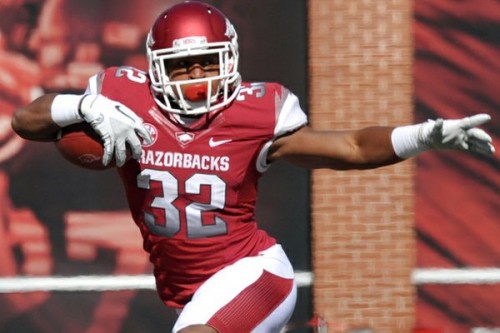 Jonathan Williams (RB, Arkansas)
With the first of their two sixth round picks, the Bills took a flyer on a position that also needs some additional help when they drafted a speedy wide receiver, Kolby Listenbee of Texas Christian. He is considered a one-dimensional prospect, but that dimension is his ability to stretch the defense by making big plays down the field using his speed. He was overshadowed in college by his more heralded teammate, Washington first round pick Josh Doctson, but is a player with enough ability to make the Bills roster and contribute in the passing game, despite being a low round pick. His negatives include being a thin, wiry receiver who needs to bulk up and his inability to block downfield on screen passes or in the running game, a skill valued highly in the NFL.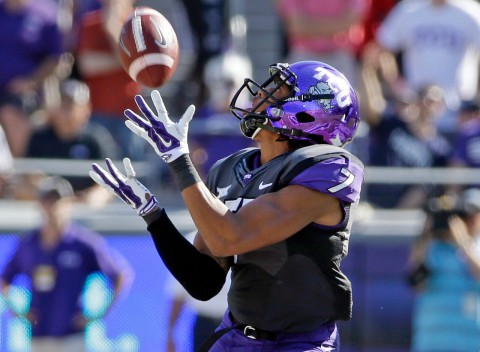 Kolby Listenbee (WR, T.C.U.)
The second of the two sixth round picks by the Bills, and their final choice since they had previously traded away their seventh rounder, turned out to be Southern Cal cornerback Kevon Seymour, another player whose 2015 season was dogged by injury but who has the potential to make the squad. He has great speed and excels on special teams, and his best shot at sticking with the Bills will probably be as a member of the bomb squads. One of the Bills "gunners" on kick coverage, Ron Brooks, left in free agency so there's an opening there for Seymour. Bills' GM Whaley has said he likes to add a corner in each draft, and was true to his word with this pick.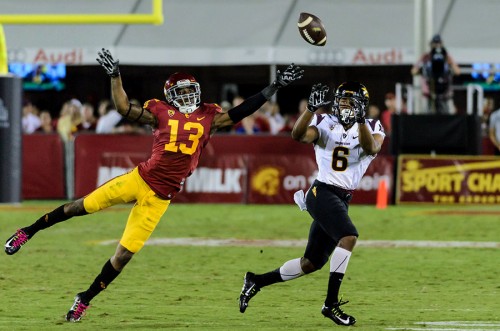 Kevon Seymour (CB, Southern Cal)
Like the rest of the NFL, the Bills scrambled to add undrafted free agents once the seven rounds were completed, and their list includes some interesting prospects. Glenn Gronkowski, fullback from Kansas State and a brother of the star New England tight end, signed with his hometown team, as did former University at Buffalo quarterback Joe Licata. They added a linebacker with an appropriate name, Eric Striker from Oklahoma. There will be competition for special teams jobs in training camp also, as Buffalo added a long snapper, Reid Ferguson of LSU, and a placekicker to compete with Dan Carpenter in Georgia's Marshall Morgan. There were a number of offensive linemen and receivers added, but what sticks out like a sore thumb on the list is the lack of any safeties, a perceived position of need that they also failed to address in the draft.