The Buffalo Bills made a move on Friday night to improve their position in the second round of the NFL draft, trading 4th round choices this year and next to swap second round picks with the Chicago Bears. The trade moved them up from # 49 to # 41, and they proceeded to pick another likely starter for their defensive unit, inside linebacker Reggie Ragland from national champion Alabama. Ragland was widely perceived to be a first round talent, but like a few of his Crimson Tide teammates, he slid into the draft's second day.  In Ragland's case, a report surfaced that he had a medical issue with an enlarged aorta, which scared some teams off. He will bring a physical presence to the Bills' defense, and should help the team stop the run as a sideline to sideline 'backer who thrives on contact with opposing ballcarriers. Ragland finds himself in a similar position as first round pick Shaq Lawson, with a position waiting for him due to a free agent departure. With veteran Nigel Bradham leaving to rejoin Jim Schwartz in Philadelphia, there's an inside linebacker spot open for the 'Bama thumper to slide into in 2016.
 Reggie Ragland (LB, Alabama)
In the third round, Buffalo selected a player that a lot of "mock drafts" had going to them in the second round – Ohio State defensive tackle Adolphus Washington. One of the analysts on the NFL Network's coverage of the draft was the big lineman's college coach, Urban Meyer, who described his player as "a defensive tackle body with defensive end skills", meaning he has a rare combination of power and speed that will allow Bills' coach Rex Ryan to use him anywhere along the line in his defensive line rotation. With the subtractions of Mario Williams and Stefan Charles from the roster going into 2016, the additions of Washington and top pick Shaq Lawson allow Ryan and his brother Rob to infuse some new blood into that rotation, with added versatility from those players.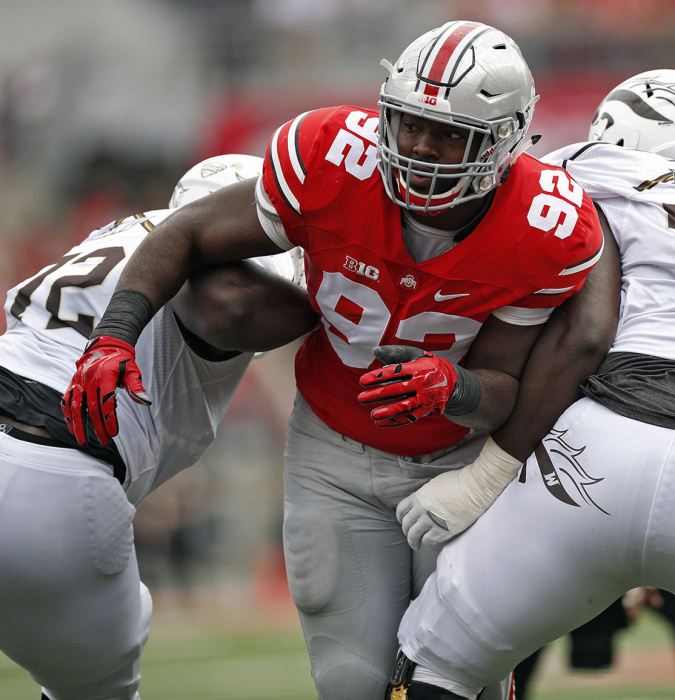 Adolphus Washington (DT, Ohio State)