Expectations for the Buffalo Sabres entering the 2015/16 season were certainly higher than the previous two bottom-dwelling years, but maybe those expectations were a little too high, as the club missed the NHL playoffs again. However, this season did show marked improvement. It took awhile for the team to come together, but they were much better, and their young players improved immensely, in the second half of the season. Here is a review of the recently completed Sabres' season, with an eye toward what they need to accomplish in the off-season to continue improving:
Front Office/Coaching
General manager Tim Murray completely remade both the coaching staff and the roster, hiring Dan Bylsma, a Stanley Cup winning coach in Pittsburgh, as the new coach, replacing the popular Ted Nolan. Bylsma didn't work any wonders, but the team looked more organized under his leadership and definitely improved over the course of the season. Draft day was hectic for Murray, and he parlayed his treasure chest of top picks into a future superstar, Jack Eichel, with the second overall pick, and a couple of trades that yielded young but experienced players. His deal with Colorado to bring in Ryan O'Reilly and Jamie McGinn was a steal, although later dealing McGinn away was disappointing. O'Reilly is a brilliant young leader who should eventually become team captain. The other trade, for goaltender Robin Lehner, gets an "incomplete" grade, as injuries kept the big goalie from playing enough to prove his worth.
Forwards
Eichel, O'Reilly and 2014 top draft pick Sam Reinhart head a roster of forwards that appears to be headed for big things next year. That trio, along with another Murray trade acquisition, Evander Kane, gave the Sabres a quartet of 20 goal scorers who figure to only get better. It was almost a totally lost season for Tyler Ennis, due to concussion issues, but if he can regain his past form the club will have another scoring threat. After slow starts, two younger veterans, Marcus Foligno and Johann Larson, improved their all-around games and started to contribute offensively. The same could be said for two of the team's older veteran leaders, Matt Moulson and captain Brian Gionta. Zemgus Girgensons was a workhorse under previous coach Ted Nolan, but his play dropped off in 2015/16 and he'll need to rebound next season. It's hard to imagine the Sabres re-signing veteran David Legwand, who'll be a free agent, especially with young up-and-comers like Hudson Fasching and Justin Bailey competing for roster spots next year.  One player who is the type of player every team needs, and the Sabres should keep around, is Nicolas DesLauriers.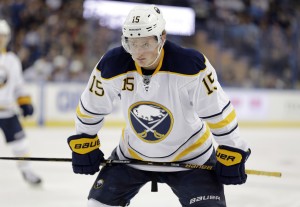 Jack Eichel
Defensemen
The Sabres have three solid young defensemen to build around heading into the future in Rasmus Ristolainen, Zach Bogosian and Jake McCabe. Another youngster, Mark Pysyk, is a probably a tier below that top three talent-wise but should be a regular competitor in 2016/17. Among the three veteran D-men on the roster, Josh Gorges, being an alternate captain, is most likely a lock to stick around next year, while the other two, Cody Franson and Carlo Colaiacovo, are stopgap players who likely will be replaced next year. In Franson's absence at the end of the year due to injury, rookie Casey Nelson stepped in and did an admirable job, staking a solid claim to a regular spot on defense next year.
Zach Bogosian
Goaltenders
Lehner is one of GM Murray's prize acquisitions and the type of big, intense goalie he likes, but overall he was overshadowed by free agent-to-be Chad Johnson this season. Lehner battled injuries, and in his absence Johnson proved his worth as a starting NHL netminder, posting a winning record for a losing, non-playoff team and gaining the total confidence of his teammates. It will be hard for Murray to let him walk away in the off-season. Linus Ullmark also played pretty well in limited opportunities, while newly signed Jason Kasdorf was shaky in his lone late-season start. He will definitely need more seasoning in the minors before he's ready for the NHL.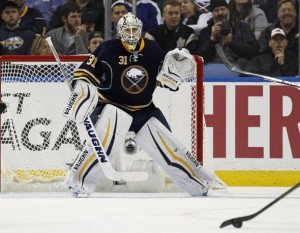 Chad Johnson