For the second consecutive year, the Buffalo Sabres finished at the very bottom of the National Hockey League standings, and for the second straight year they also lost out on the top pick in the NHL's entry draft due to the league's "lottery" system. Even without the top pick, Buffalo should be able to grab another good prospect with the second overall choice, most likely Boston University standout Jack Eichel, to go with last year's top choice, Sam Reinhart. One big disappointment of the 2014-15 season, besides the losses and supposed "tank" job to secure a top draft pick, was coach Ted Nolan being made a sacrificial lamb for all the losing. Here is a season review of what was a dismal year for Buffalo hockey fans:
Front Office / Coaching
Now that the dust has cleared from 2013's front office fiasco involving Pat Lafontaine's abrupt departure, it's clear who is running the Sabres' hockey operations – general manager Tim Murray. It was probably unfair of Murray to jettison Nolan after completely dismantling the team's roster as the season went on, as Nolan was put into an almost impossible situation. That being said, Murray, by making the move, is being consistent with how he has made decisions so far, meaning that sentiment is not part of his criteria. Murray, at his post-season press conference, intimated that he and Nolan didn't communicate much, and that he wanted a better "fit". He also said that, to a man, the players praised Nolan as a "good man", yet there wasn't much of an uprising among those players when Nolan was fired. Whoever Murray brings in to coach the team is going to have to be a guy whose strength is developing young players into winners, since that is clearly the Sabres' blueprint moving forward. There is general consensus among hockey experts that Buffalo's prospect pipeline is the strongest of all teams in the league, with more to come in this year's draft. Of course, Buffalo, over the years, always seems to have all kinds of stars-in-waiting in their minor league system, yet those players either totally fall off the map, or never develop into much more than "average" players at the NHL level.
Goaltenders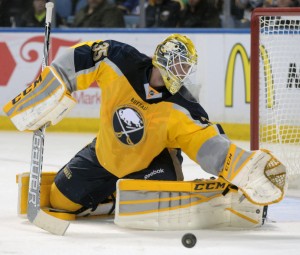 Anders Lindback
Consider what Nolan had to go through as far as goaltending was concerned in his two seasons. Since 2013, Murray traded Ryan Miller, Jaroslav Halak (now starting for the Islanders in the playoffs), Jhonas Enroth and  Michael Neuvirth. He has been forced to play Enroth, Nathan Lieuwen, Connor Knapp, Neuvirth, Andrey Makarov, Matt Hackett and Anders Lindback. Chad Johnson, acquired from the Islanders, would have probably played also but wound up getting hurt. One of the amazing things about this season was that whatever goalie the Sabres threw into the net, eventually they looked great. Lindback, a throw-in in the big trade Murray made to acquire Evander Kane and Zach Bogosian from Winnipeg, wound up finishing the year as the starting netminder and is most likely the favorite to win the job next year unless one of their prospects steps up and claims the job. I think it's telling that when Nolan was fired, his staff also was let go, with the exception of goaltending coach Arturs Irbe, who apparently worked magic with whatever goalie he was told to coach that week. Despite finishing the year strongly, Lindback has always been considered a journeyman, so it's likely that even if he starts 2015 as the starter, Buffalo's long term answer at the position is far from settled.
Forwards
Brian Gionta
When you're the last place team in the entire league for two consecutive seasons and one of the lowest-scoring teams in NHL history, there is no player among the forward ranks whose job is safe. So who will still be on the roster next year from this group, and what will the lines look like, especially with a new coaching staff? Good candidates to remain are team captain Brian Gionta, who started the season slowly but finished strong and did a terrific job, as captain, of holding the locker room together in a putrid situation (GM ripping apart the roster, fans purposely rooting for the opponents to get a higher draft pick, etc.), Tyler Ennis, one player who shows some real offensive skills, Marcus Foligno, who has underachieved so far but looks to be finally developing, Nic Deslauriers, a banger who was the only Sabre to play all 82 games this season, and Zemgus Girgensons, a budding star. Johann Larson brought his "A" game late in the year and should have earned a long look from the next coaching staff, and Mikhail Grigorenko is way too young and has far too much potential to give up on yet. The newly-acquired Evander Kane and top prospect Reinhart are likely to play key roles also. Matt Moulson is an alternate captain and has a multi-year contract, but he needs to provide a little more scoring to secure a top-line role, in my opinion. Phil Varone, up and down from Rochester during the season, showed enough to get a look. How much room there is on the team for heart-and-soul guys like Pat Kaleta, Matt Ellis and Cody McCormick remains to be seen. Anybody not mentioned (Cody Hodgson) was not included for good reason – they're not seen here since they were invisible for all or most of a lost season.
Defensemen
Rasmus Ristolainen
This group figures to be a strength of the team in upcoming years. Murray gave up a lot to acquire Kane and Bogosian, but a straight up comparison of Bogosian to Tyler Myers, who was shipped to Winnipeg in the deal, is an upgrade for Buffalo. Bogosian immediately stepped in as a pillar on the blue line, as opposed to the yearly waiting for Myers to grow from a boy to a man. Rasmus Ristolainen is an emerging star, and another youngster, Nikita Zadorov, could be even better when he matures some. Mike Weber, voted by his teammates as their unsung hero, is a solid defensive defenseman, and alternate captain Josh Gorges is a good player and locker room leader. Tyson Strachan, Andre Benoit and Andrej Meszaros are older, stop-gap players who could be unseated next year by younger, better options currently in Rochester, like Chad Ruhwedel, Mark Pysyk  and Jake McCabe.