The New England Patriots meet the Houston Texans on this week's NFL schedule, and for our Throwback Thursday post we'll go back just a few years to find a contest between these 2 clubs that turned out to be a wild shootout between the G.O.A.T. and a fresh young upstart, those players being the Patriots' Tom Brady and Houston rookie DeShaun Watson. It was early in the 2017 season, in week 3 on September 24, when the Texans invaded Gillette Stadium to take on the mighty Patriots. New England was a heavy favorite, having won the Super Bowl the previous season, while the Texans were AFC South Division champs in a mediocre year for the division in 2016. Watson hadn't done much to this point, although he did scamper 49 yards for the only touchdown of the game the prior week to give his team a win over Cincinnati.
This turned out to be a breakout performance for the young rookie as he battled Brady for 4 quarters. New England opened the scoring with Brady hitting Rob Gronkowski with a 5 yard touchdown pass. Then Watson led his team on a pair of scoring drives that ended with a field goal and a 29 yard scoring toss from Watson to Bruce Ellington. Brady answered with a touchdown throw of 7 yards to Chris Hogan. Houston added another field goal, then suddenly took a 20-14 lead when Jadeveon Clowney scooped up a fumble and ran 22 yards for a defensive score. As he has done his whole career, Brady never flinched. He found Hogan again from 47 yards out to regain the lead for his club at 21-20 at the half. Brady increased the lead to 28-20 in the third quarter when he hooked up with Brandin Cooks, who ironically now plays for the Texans, on a 42 yard scoring throw.
Not to be outdone, Watson pulled his team to within a point by finding Ryan Griffin for a 12 yard TD, then engineered a pair of field goal drives to give Houston a 33-28 lead. Houston made the mistake of leaving time on the clock for Brady, and he took advantage. He led the Pats downfield and finished the drive with a controversial touchdown pass to Cooks. Replays seemed to show that Cooks bobbled the ball, and that it hit the ground, after he landed out of bounds. However, the catch was upheld, Brady hit Cooks for a 2 point conversion and New England hung on for a 36-33 win.
Brandin Cooks' controversial touchdown catch
In all, Brady threw for 5 touchdowns on the day, and his team needed every one of them to squeeze out the victory over the young buck. Cooks and Hogan had great statistical days, with Cooks grabbing 5 passes for 131 yards and Hogan adding 4 receptions for 68 yards, with both receivers scoring twice each. Watson, a tremendous talent, threw for over 300 yards and 2 TDs and added 41 yards on the ground in the losing cause. It should have been the breakout game that launched him to All Pro status, but his career has taken a turn for the worse today due to off the field issues, and the Texans are actively trying to trade him in 2021, with no takers so far.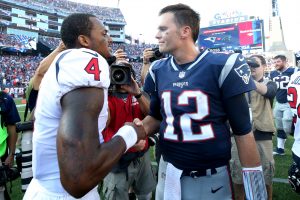 Brady, Watson shake hands after epic battle