With the New England Patriots and Baltimore Ravens squaring off on this week's NFL schedule, our Throwback Thursday feature remembers a game between these 2 teams played on January 22,2012, a contest to decide the AFC Championship and a trip to Super Bowl XLVI. Played at Gillette Stadium in Foxboro, it was a back-and-forth battle between 2 proud teams trying to advance for a chance at pro football's biggest prize. In the end, it was the Ravens who encountered a pair of hard luck plays that ultimately were the difference in the game.
Stephen Gostkowski kicked a field goal for the Patriots to open the scoring, the only points scored by either team in the first quarter. Baltimore's Billy Cundiff tied the game early in the second stanza, and the teams then traded touchdowns. BenJarvus Green-Ellis scored from 7 yards out for New England, and quarterback Joe Flacco hit his tight end, Dennis Pitta, with a 6 yard scoring pass, tying the score at 10-10. Gostkowski closed out the first half and opened the second with field goals to put his club up 16-10, but the Ravens fought back. Flacco threw 29 yards to Torrey Smith for a touchdown, and Cundiff hit another field goal as Baltimore pulled ahead 20-16 headed into an eventful final quarter.
It was in this fourth quarter that Baltimore saw their chance to compete for the Lombardi Trophy fade into history. First, Tom Brady used his patented QB sneak to dive into the end zone from a yard out, giving the Patriots the lead at 23-20. Flacco didn't flinch, however. With 1:44 left to play, he guided the Ravens on a drive deep into New England territory. That's when the first twist of fate happened. Flacco tossed a perfect pass to the usually reliable Lee Evans. Evans snatched the pass and turned at the goal line into the end zone, only to have Sterling Moore, a journeyman Patriot cornerback, jar the ball loose at the last second. It was redemption for Moore, who had missed a tackle on Smith's touchdown catch-and-run earlier. All was not lost, however. Despite failing to cross the goal line, Baltimore could still at least tie the game with a field goal. Fate, again, wouldn't be kind to the Ravens. Cundiff's 32 yard game-tying attempt with 11 seconds remaining inexplicably sailed wide left, and the Patriots escaped with the victory.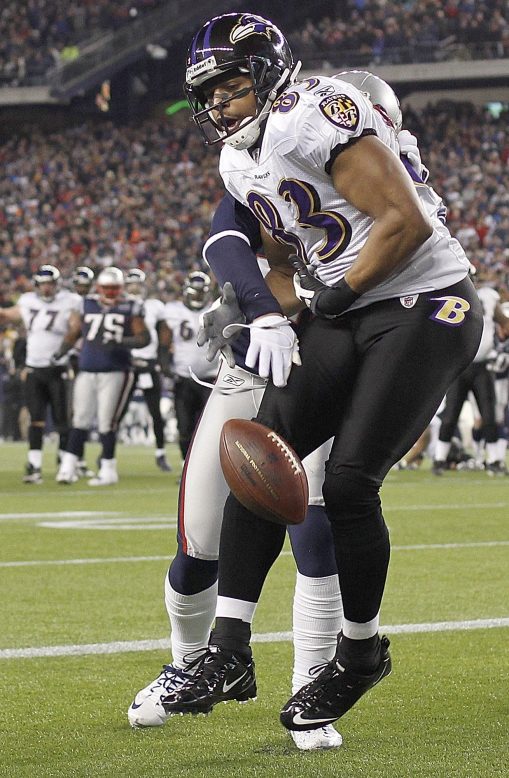 Ravens' Lee Evans drops potential game-winning TD pass
Luck would run out for New England in the Super Bowl. They were matched up with an NFC team that had spoiled their attempt at a perfect season a few years earlier – Eli Manning and the New York Giants. Once again, the Giants spiked the Patriots' dreams.