On September 26, 1976 the San Diego Chargers and St. Louis Cardinals met, and they play each other again on this week's NFL schedule, with both clubs calling different cities home. We highlight this matchup as our Throwback Thursday feature because the Cardinals' coach, Don Coryell, would find himself as the head man of the Chargers a couple of years later. It was week 3 of the '76 season and both teams entered the contest unbeaten at 2-0. Coryell had a top quarterback leading his offense in Jim Hart, and Hart played a pretty good game, but it was San Diego's young signal caller, Dan Fouts, who dominated the action. He led a drive that ended with a Don Woods touchdown run to start the scoring, but Hart brought the Cardinals back with a 14 yard touchdown toss to J.V. Cain and a field goal drive. Since the Chargers had missed their extra point St.Louis now led 10-6.
Fouts and the Chargers took command in the second quarter. Rickey Young's short scoring run started a 27 point avalanche, with Fouts throwing 3 touchdown passes. He found Charlie Joiner for a 30 yard score, then threw twice to Dwight McDonald for touchdowns from 44 and 18 yards out. Another extra point was missed, but it hardly mattered. San Diego now led 33-10 at the half. When Hart hit Wayne Morris with an 11 yard TD it looked as though the Cards might have some life, but Fouts snuffed that out by leading another field goal drive and throwing his fourth touchdown pass of the day, a short 1 yarder to Pat Curran. Morris added another touchdown for St. Louis but the outcome had been decided by then. The final result was a 43-24 beatdown by San Diego.
The seasons went in opposite directions for these 2 teams after this game. San Diego would stumble to a 6-8 record. The Cardinals went 10-4 but still wound up third in the NFC East, and had the dubious distinction of being the only 10 win club to not qualify for the playoffs in the 14 game season era. It was the first time in 3 years that they missed the playoffs. Ultimately, the Cardinals fired Coryell and in the middle of the 1978 season San Diego fired their coach, Tommy Prothro, and replaced him with Coryell, who had cut his teeth as a coach at San Diego State in the 1960s and early '70s. He took Fouts and Joiner and added pieces like Chuck Muncie, John Jefferson and Kellen Winslow and created the "Air Coryell" offensive attack that the Chargers used successfully for the 9 years that he coached there.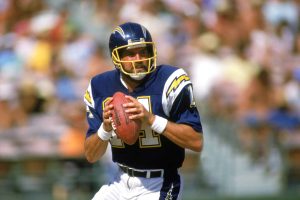 Future Hall of Fame QB Dan Fouts