The NFL regular season of 2020 wraps up this weekend, and a pair of old AFC East rivals, the Buffalo Bills and Miami Dolphins, square off with both having positive seasons. Both made the playoffs in 1998 also, and our final Throwback Thursday feature will go back to that season, and a wild card playoff game held at Miami's Pro Player Stadium on January 2, 1999. The teams had identical 10-6 records for the year but the Dolphins won the division based on tiebreakers. The Bills were already a couple of years removed from the Jim Kelly era, and were quarterbacked by Doug Flutie, who they signed after he had an illustrious career in the Canadian League. Dan Marino was still leading the Dolphins' passing attack, but was past his prime and nearing the end of his long career.
The first half was relatively quiet offensively as far as scoring went. Olindo Mare kicked a pair of field goals for an early Miami lead, then Flutie led a drive that culminated in a 1 yard rushing touchdown by veteran Thurman Thomas to put the Bills up 7-6. In the third quarter the Dolphins regained the lead at 14-7 when Karim Abdul-Jabbar scored on a short run and Stanley Pritchett ran in for a successful 2 point conversion. Throughout the game, Flutie enjoyed tremendous success hooking up with his favorite target, wide receiver Eric Moulds, to highlight Buffalo's offensive attack. Moulds, who had a record-setting day with 9 receptions for 240 yards, hauled in a Flutie aerial and turned it into a 32 yard touchdown to tie the game after 3 quarters. Miami took control in the final stanza by scoring twice, on another Mare field goal and a 12 yard touchdown toss from Marino to Lamar Thomas. The Bills could only muster a late Steve Christie field goal and fell to their AFC East rivals, 24-17. Buffalo was done in by their own mistakes in the contest. Despite the success with Moulds and throwing for 360 yards overall, Flutie had 3 turnovers, an interception and a pair of fumbles. Moulds also had a black mark on his day as he fumbled once, as did long-time Bills' legend and future Hall of Famer Andre Reed. Those 5 turnovers were the death knell for Buffalo in the game.
In some ways this game was the beginning of the end of the Bills' dominant run in the AFC in the 1990s. After one more season of playing together, on February 10, 2000, Buffalo released 3 of their star performers from that era, all on the same day – Thurman Thomas, Andre Reed and Bruce Smith. The franchise was about to enter a 17 year drought of missing the playoffs after the 1999 season.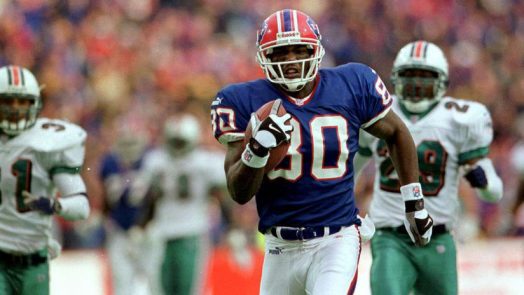 Bills' WR Eric Moulds has a record-setting day in a losing cause