Previewing the 2021 Buffalo Bills' season is a bit different than previous years. The club has made steady improvement each season in the Brandon Beane/Sean McDermott era, culminating in an appearance (although a disappointing one) in the AFC Championship game. Here's a breakdown of the club heading into a season of very heightened expectations:
Front Office / Coaching
Looking back at last year's preview, the Bills were successful in a couple of areas. They managed to keep their coaching staff complete again, despite interest in both of their coordinators for head coaching jobs elsewhere. That means another year of continuity for all 3 phases of the game. Also, my lone criticism of Coach McDermott, that he had compiled a winless 0-6 record against Bill Belichick's Patriots, was put to rest as the Bills swept the long-time AFC East dragons, including a 38-9 Monday night thrashing late in the year at Foxborough. They also completed a sweep of the entire division on the way to a division-winning 13-3 record. GM Beane did the remarkable by managing to re-sign key veterans Matt Milano, Darryl Williams and Jon Feliciano among others, and made slight tweaks, and possible upgrades, to the receiving corps by replacing the departed John Brown with vet Emmanuel Sanders and by bringing in Mitch Trubisky as a backup quarterback. The team used the early to middle rounds of the draft to beef up both sides of the trenches, while adding some possible future contributors in the later rounds.
Quarterbacks
Mitch Trubisky adds a veteran backup to the QB room
Josh Allen enjoyed a breakout season in 2020, cementing his status as a franchise quarterback and earning himself a massive contract extension. Mitch Trubisky, run out of Chicago as a perceived "bust", gets a chance to reset his career as Allen's backup. His experience and matching skill set to Allen's make him an upgrade over Matt Barkley. Buffalo also has a pair of QBs on their practice squad in Davis Webb, who the coaches claim is invaluable in helping Allen prepare for games, and Jake Fromm, last year's "Covid emergency" signal caller who can be groomed as a possible future backup since Trubisky is here on a one year contract.
Running Backs
Zach Moss looks to contribute in the Bills' back by committee approach
Buffalo is fully committed to a running back by committee approach in 2021 based on the players they have kept on this year's roster. Devin Singletary is the best all-around of the bunch, with elusive running skills and good pass receiving abilities. Zach Moss, back from an injury suffered in last year's playoffs, is more of a short yardage power back. Matt Breida replaces T.J. Yeldon as the third back. He was brought in to add speed to the edge to the committee. Taiwan Jones is listed as a back but is almost strictly a special teams ace. Versatile Reggie Gilliam, who was a fullback in college at Toledo, was listed as a tight end last year, but now is back at fullback and even got a look as a tailback in the preseason. Like Jones, he is a major special teams contributor also.
Receivers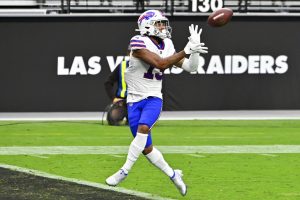 Gabriel Davis is an unsung playmaker for the offense
The acquisition of Stefon Diggs in the last offseason was a major coup for Beane. He became Allen's top receiving target, leading all NFL pass catchers in receptions and yards. Cole Beasley had his best season ever as a reliable slot option for the Bills' young QB. Emmanuel Sanders replaces John Brown as the third receiver, and although he lacks Brown's speed, he makes up for it with veteran savvy and the ability to play any spot and run the entire route tree. The surprise of 2020 was the emergence of rookie Gabriel Davis, who worked his way not only onto the roster as a fourth round draft choice, but into a prominent role as a major playmaker in the offense. Isaiah McKenzie is back to not only add his gadget play ability to the receiving corps, but also with the added responsibility as the team's kick and punt returner. Jake Kumerow, Aaron Rodgers' buddy in Green Bay with the nickname "Touchdown Jesus", made the squad also after a fine preseason showing. The Bills also stashed a couple of receivers on the practice squad – injury prone Isaiah Hodgins and Allen's old college teammate Tanner Gentry. Surprisingly, only 2 tight ends are on the 53 man roster. They are Dawson Knox, who has had issues with drops but has enormous potential, and Tommy Sweeney, who battled Covid and major side effects from it last year, and had some injury problems in the preseason.
Offensive Line
G Jon Feliciano is back to add grit to the offensive line
Continuity is the buzzword for the Bills in 2021, and the offensive line is an example of that being the case. Returning are center Mitch Morse, tackles Dion Dawkins and the underrated Darryl Williams, and guard Jon Feliciano, the self-appointed "mean streak" of the Bills' line. The only "new" starter is guard Cody Ford, who has undergone position changes and lost most of 2020 due to injury, and now gets the chance to lock down a starting spot permanently. Rookie third round draft pick Spencer Brown is the new swing tackle, with the rest of the O-line depth being provided by Ike Boettger, who started at guard most of last year, rookie Tommy Doyle, and versatile Ryan Bates, who can man any of the 5 positions along the line, making him a favorite of a coaching staff that values versatility.
Defensive Line
Space-eating DT Star Lotulelei is back after opting out in 2020
Improving the defensive line play, and most importantly the pass rush, was a top priority for the Bills in the offseason. At the final cutdown to 53, Buffalo kept an unprecedented 11 players on the D-line. The starting four, by seniority if nothing else, should have Ed Oliver and Star Lotulelei, returning after opting out last season, at tackle and vets Jerry Hughes and Mario Addison at end. Calling anybody starters is really a moot point as defensive coordinator Leslie Frazier will employ a large amount of shuffling along the line to keep players fresh. Star's return should help shore up the run defense and free up Oliver to make more impact plays. Hughes and Addison are good at racking up quarterback "pressures" but the Bills are looking for more "finish" from their front four. Translation: More sacks. To try to accomplish this, the team added an infusion of youth with their top 2 draft picks, Greg Rousseau and Carlos "Boogie" Basham. Rousseau flashed some brilliance in the preseason and Basham showed the ability to play both inside and out. They will both be major contributors. Another newcomer is Efe Obada, a free agent signing who has loads of potential but must now show production. Second year man A.J. Epenesa will also get plenty of playing time and showed in the preseason that he's ready to make plays. Depth on the inside will fall to Vernon Butler, a veteran who was forced to play out of his usual 1-technique spot last year because of Lotulelei's absence, Harrison Phillips, coming off an injury, and Justin Zimmer, a classic overachiever who the coaches love.
Linebackers
Matt Milano, playmaking LB, is re-signed and ready to go
The Bills' defense requires their linebackers to be quick and rangy and excel in pass coverage. Young Tremaine Edmunds, the quarterback of the defense, fits that description and despite being a two-time Pro Bowler, could be primed for a breakout year. Matt Milano was re-signed and he also has the traits the Bills look for. He's a ball hawk when he stays healthy and a major force on the defense. The Bills play a nickel defense a majority of the time but when 3 'backers are on the field the third starter should be A.J. Klein. He joined the team as a free agent last season and struggled early on, then had a couple of great games when filling in for Milano to solidify his place on the club. The 3 reserves, Tyler Matakevich, Andre Smith and Tyrel Dodson, are key special teams players but also provide quality LB depth.
Defensive Backs
Levi Wallace is an underappreciated piece of Buffalo's secondary
Cornerback Tre'Davious White is an All Pro and the best player on the Bills' defense, but the rest of the starting secondary is unheralded. Unheralded, but solid as a rock. Safeties Jordan Poyer and Micah Hyde are very good at not allowing big plays, even if they get almost no mention as top NFL players. The annual quest to replace Levi Wallace as the starting corner opposite White failed again this year, and the former undrafted free agent should be back in his familiar spot. The slot cornerback is an important position in the Bills' defense, and that spot is manned by Taron Johnson, who had a few monster big plays for the team last year. The only knock on him is durability as he's missed multiple games with injuries in the time he's been here. In reserve, the Bills have Dane Jackson, who made the final roster after spending most of 2020 on the practice squad, and Swiss Army knife Siran Neal, who can play corner or safety. Backing up Poyer and Hyde, who are durable as it gets, are Jaquan Johnson and rookie Damar Hamlin. All of the secondary backups will be special teams contributors.
Special Teams
Isaiah McKenzie becomes the Bills' top kick returner in 2021
Buffalo puts a high premium on their special teams, and their roster is loaded with players whose main contributions will be with the bomb squads. Two of the three specialists, long snapper Reid Ferguson and kicker Tyler Bass, return. Bass set a team record for points scored last season as the offense thrived. Two key spots – punter and kick returner, will have new players. Matt Haack , signed away from Miami, is the new punter, while Isaiah McKenzie takes over the return duties from the departed Andre Roberts. Darryl Johnson, who was traded to Carolina on cutdown day, was a top special teamer who will be missed, but the team has plenty of capable guys to fill the ST roles. They include Taiwan Jones, Siran Neal, Tyler Matakevich, Andre Smith, Reggie Gilliam and rookies Boogie Basham and Damar Hamlin.
Here's your annual song to get psyched up for the upcoming season, the Bills' Shout song: