This particular "list" post was supposed to be the 5 most controversial major league baseball players of all time, but when I narrowed down the choices to 5, I realized they were all pitchers, hence the title change. I've always thought of catchers as the "characters" when it comes to baseball players (former Orioles catcher Rick Dempsey comes to mind) but it looks like the pitchers take the prize. Here's my list:
1. Bo Belinsky – he was the first "star" for the fledgling Los Angeles Angels franchise when they began operations in 1962, and was a perfect fit for the Southern California scene. He won his first four decisions to start the year, including tossing a no-hitter in his fourth start. Unfortunately, he lost focus on his career and became a notorious womanizer with Hollywood connections, partying with celebrities like Eddie Fisher, Dean Martin and Henry Fonda while being linked romantically with Connie Stevens, Tina Louise, Ann-Margaret and Mamie Van Doren. He ended the '62 season with a mediocre 10-11 record and flamed out quickly after that, kicking around the majors until 1970 but not accomplishing much.
2. Bill "Spaceman" Lee – the Spaceman was an effective left-handed pitcher who relied on changing speeds to be successful, and he was, as he forged a 14 year major league career. He played that career for only 2 teams, the Red Sox and Montreal Expos, which was amazing considering his propensity for constantly criticizing team management. He was known for espousing hippy counterculture ideas, speaking in defense of marijuana use, Maoist China, Greenpeace and school busing in Boston. In Boston, he feuded with his old school manager, Don Zimmer, and nicknamed Zimmer "The Gerbil". To this day, Lee, now 65,  still pops up as a pitcher in various semi-pro leagues, and in August of this year tossed a complete game victory for the San Rafeal Pacifics, and used a home made bat to drive in the first run of the game.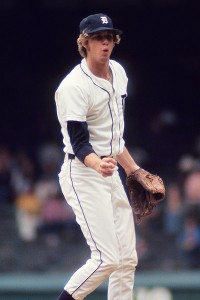 3. Mark "Bird" Fidrych – like Belinsky, Fidrych stormed onto the scene in his rookie year, and became an overnight sensation and fan favorite with, like Lee, his eccentric behavior. Also like Belinsky, he flamed out quickly and was out of baseball after 5 seasons. He fascinated his fans in Detroit, known as "Bird Watchers", with his antics on the mound, which included talking to himself, talking to the ball, aiming the ball like a dart, strutting around the mound after every out, and throwing back balls that "had hits in them," insisting they be removed from the game. In 1977, Fidrych felt his arm "go dead" while pitching, and within a couple of years was out of the game. It wasn't until 1985, after he'd been out of the game for 5 years, that it was discovered he'd had a torn rotator cuff injury. After baseball, he bought a farm and unfortunately, in 2009, was killed in an accident while working under a dump truck he owned when his clothes became entangled with a spinning power takeoff shaft on the truck.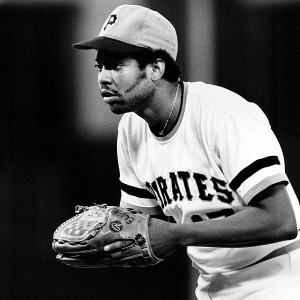 4. Dock Ellis – Eliis was a successful starting pitcher for 12 seasons in the majors, and helped the Pittsburgh Pirates win the World Series in 1971. He was a character and his career is littered with controversial incidents, the most famous of which occured on June 12, 1970, when he pitched a no-hitter while under the influence of LSD. He had taken the drug thinking he wasn't scheduled to start that day, and his account of the game afterwards included these gems: he claimed his glove was telling him what pitches to throw, that at one point he was convinced that President Nixon was the home plate umpire, and that one batter he faced appeared to be Jimi Hendrix swinging a guitar across the plate. He also once showed up in the bullpen with curlers in his hair, and after giving up a legendary monster home run to Reggie Jackson in the All Star game, beaned Jackson in the face the next time he faced him in retaliation.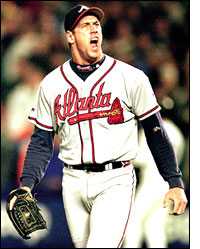 5. John Rocker – a left-handed closer, Rocker also flamed out quickly after a short time in the limelight. He really had only one successful season, when he had 38 saves for the Braves, then garnered 24 more the next year before being sent to the minors for threatening a reporter. He was a constant stream of controversial statements while he was in the headlines, mostly with statements that were racist, homophobic and/or sexist. While with the Braves, he was asked if he'd ever consider playing for the Yankees or Mets, and his answer was  a rant about New York City that went something like this: "I'd retire first. It's the most hectic, nerve-racking city. Imagine having to take the train to the ballpark looking like you're riding through Beirut next to some kid with purple hair, next to some queer with AIDS, right next to some dude who just got out of jail for the fourth time, right next to some 20-year-old mom with four kids. It's depressing… The biggest thing I don't like about New York are the foreigners. You can walk an entire block in Times Square and not hear anybody speaking English.  Asians and Koreans and Vietnamese and Indians and Russians and Spanish people and everything up there. How the hell did they get in this country?" His behavior may have been due to the fact that he was an admitted steroid user.