Rocky, Remember The Titans, Safe At Home, Pride of  The Yankees, Rudy, Brian's Song, Bull Durham, Bad News Bears, Hoosiers and League Of  Their Own. These are all films that get honorable mention on my list of favorites when it comes to sports movies. The 2 toughest to eliminate were Pride Of The Yankees, with Gary Cooper's great portayal of Lou Gehrig, and League Of Their Own, based on the true story of a women's professional baseball league that existed during the war years, a film that included Tom Hanks' classic line "There's no crying in baseball!" Here are the five sports films that made the cut – my favorite sports movies of all time, in no particular order:
1. Slapshot – a 1970s classic comedy about a minor league hockey team, starring Paul Newman as  aging veteran Reggie Dunlop, who is trying to hang on with the Charlestown Chiefs, a motley group that included the goonish and unforgettable Hanson Brothers (above). The Chiefs are a perennial loser and a financial mess, and are scheduled to fold at season's end. Dunlop, actually the team's player/coach, has the Chiefs start playing "goon" hockey and turns them around. The team's final game, in which they play the Syracuse Bulldogs and their rookie goon – Ogie Ogilethorpe – is a hoot. The film came out in 1977, right around the time the old Philadelphia Flyer "Broad Street Bullies" were dominating the NHL using a style just a little less violent than the Chiefs.
2. Paper Lion – this 1968 classic chronicled author George Plimpton's foray into pro football. Alan Alda played Plimpton, who had earlier pitched in a baseball all-star game and boxed 3 rounds against Sugar Ray Robinson, then written about his adventures. Plimpton has a hard time finding a team to buy into his idea, and my favorite scene in the movie is pictured above. Plimpton (Alda) is unsuccessful in convincing Green Bay coach Vince Lombardi to let him try out for the Packers, and as he escorts him to the door, with a sly grin Lombardi asks Plimpton "have you tried the AFL?"  When the film was made Lombardi's Packers had demolished the AFL champs in the first 2 Super Bowls so the line was a real "shot". Plimpton eventually gets the Detroit Lions to agree to let him try out, and the actual Lion players used in the film turned out to be pretty good comedic actors, especially Alex Karras, who went on to enjoy a decent acting career. The film is not an Academy Award winner, but I love it because it takes place in the golden era of NFL football that I grew up following in the 1960s.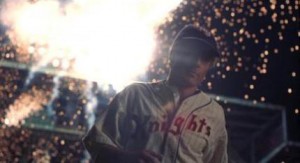 3. The Natural – this movie was panned by some critics when it came out for being too hokey, but those critics didn't get it. The movie was made from an old book, and was  intentionally made in the sappy, storybook style of the author, Bernard Malamud. Robert Redford was terrific as the movie's hero, Roy Hobbs, who attempts a comeback after mysteriously disappearing from the game. Robert Duvall, one of my favorite actors of all time, plays an impish sportswriter trying to figure out Hobbs' story. Hobbs reunites with an old flame, played by Glenn Close, and in the end discovers that he is the father of her young son. Hobbs' game-winning home run at the end, which breaks the scoreboard and sets off an electrical fireworks display (see picture above) is a little over the top, but again, it's a fantasy movie with a fantasy ending.
4. Major League – any movie that ends with the Cleveland Indians winning the pennant is going to be on my all-time favorites' list. This film may be the best comedy sports movie ever made however. It is filled with great comedy moments, like Bob Uecker's radio play-by-play ("juuuuust a bit outside") and Pedro Cerrano's locker room voodoo ceremony designed to help him hit a curve ball.  There  are memorable characters, like Wesley Snipes' portrayal of the cocky Willie Mays Hayes, crusty manager Lou Brown and of course, Charlie Sheen as the "Wild Thing", pitcher Rickie Vaughn. The team is inherited by a rich widow who wants to move it to the warmer climate of Miami, and she orders the general manager to field the worst team he can so they'll lose and make it easier for her to relocate from Cleveland. Tom Berenger, as washed-up catcher Jake Taylor, and Corbin Bernsen, as highly-paid prima donna Roger Dorn, battle throughout the movie but ultimately they all come together in the end. The movie spawned 2 sequels, but those never lived up to the original.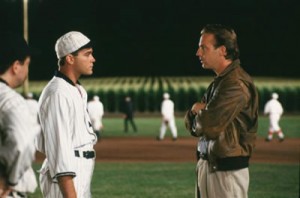 5. Field of Dreams – "Is this Heaven?"  No…it's Iowa." A classic line from this fantasy film about baseball and its' timeless place in people's lives. Kevin Costner, who has starred in numerous sports films, plays Iowa farmer Ray Kinsella, who hears voices in his cornfield telling him "if you build it he will come". To the dismay of his family, he then builds a baseball diamond in the cornfield, and eventually the ghost of Shoeless Joe Jackson shows up with a squad of old deceased ballplayers who begin playing on the field. Kinsella then is compelled to go out and find author Terence Mann, played by James Earl Jones, after the "voices" tell him to "ease his pain". After picking up Mann in Boston in his van, the pair both see a vision on the scoreboard involving a "Moonlight" Graham, another player of the past who played one inning in the major leagues but never got a chance to bat. Graham, in his later years after he became Doctor Graham, is played by Burt Lancaster in his final movie role. Obviously, with the plot of the movie involving ghosts, voices and even time travel (Kinsella finds the older Graham when he leaves his motel room and suddenly it's 1972), this film is total fantasy, but it is a great film that has a lot of life lessons to be found. The movie received 3 Oscar nominations, including one for Best Picture, a rarity for sports movies.