We're a little late to the party this year in posting our evaluations of the Buffalo Bills' choices in this year's college draft, but with the season fast approaching and our season preview post due soon, it's better late than never! The Bills used their first round pick as part of a trade with Minnesota for a proven veteran wide receiver, Stefon Diggs. Here's an analysis of their remaining choices: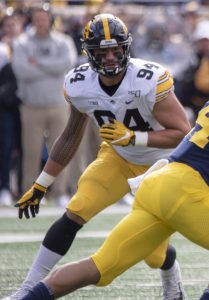 (James Coller photo)
Round 2 – A.J. Epenesa (DE, Iowa) – a quick, strong pass rusher to add to the team's defensive line rotation. Known for a strong work ethic, he should fit in well with the Bills' "process".
Round 3 – Zach Moss (RB, Utah) – the Bills elected not to resign Frank Gore, so there is an obvious opening for another back on the roster. Moss is a tough inside runner who should excel in short yardage situations, and also possesses good pass receiving skills.
Round 4 – Gabriel Davis (WR, Central Florida) – the first of 2 big receivers the Bills went after in the draft. Davis had impressive stats in his junior year at UCF before declaring for the draft – 72 receptions for 1,241 yards and 12 touchdowns.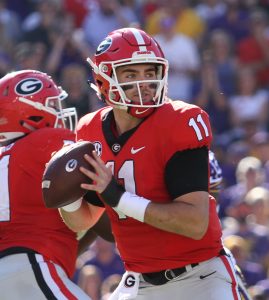 (Tammy Baker photo)
Round 5 – Jake Fromm (QB, Georgia) – Jake "Fromm State Farm" became a controversial pick after some questionable texts by him were revealed, but his football ability makes him a solid possibility to win the team's backup quarterback job behind Josh Allen.
Round 6A – Tyler Bass (K, Georgia Southern) – the first of a pair of sixth round choices turned out to be a serious competitor for incumbent kicker Stephen Hauschka. Bass has an extremely strong leg to compete with Hauschka, who seems to have lost some long range ability with age. Having kicked in a small conference in the south, Bass will have to show he can handle booting in the Buffalo weather.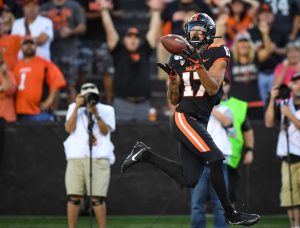 Round 6B – Isiah Hodgins (WR, Oregon State) – here's the other big-bodied wideout GM Brandon Beane chose. At 6'4 and 209 pounds, he is an imposing red zone target with a great pair of hands, and will be solidly in the mix for a roster spot among a talented group of receivers the team has.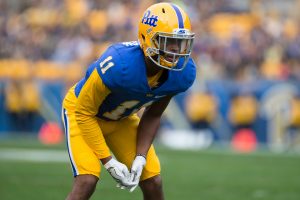 Round 7 – Dane Jackson (CB, Pittsburgh) – seventh round draft picks are always long shots to stick with an NFL team, but the Bills value depth in their defensive secondary so he has a chance. He played 4 years at Pitt so he is experienced, and was second team All-ACC in his senior year.
The Bills, as always, signed some intriguing undrafted free agents after the selection process was over, including Reggie Gilliam, a fullback from Toledo who comes into camp with a reputation for being a special teams standout, specializing in blocking kicks. Trey Adams, a massive 6'8 311 pound tackle from Washington, was considered a top prospect before injuries hampered him but if he stays healthy he can win a roster spot. Brandon Walton, a big tackle from Florida Atlantic, blocked for Bills' back Devin Singletary in college. Ike Brown is a cornerback from Florida International who will be one of a large group of young CBs trying to stick with the team. The COVID-19 virus and the NFL's decision to expand rosters and practice squads to account for possible positive tests during the season certainly gives a lot of these players a great opportunity to continue their careers. However, the shortened training camp and lack of preseason games definitely cuts down on their chances to show their worthiness.