The Philadelphia Eagles face the Oakland Raiders on this week's NFL schedule, taking our Throwback Thursday feature back to Super Bowl XV, played between these 2 franchises on January 25, 1981 in New Orleans, to decide the NFL's championship for the 1980 season. The atmosphere surrounding the game was patriotic, as the Iran hostage crisis had ended just 5 days earlier. The episode was a hostage situation in which 52 American diplomats were held hostage in Iran for 444 days, and minutes after Ronald Reagan was sworn in as the new U.S. president, they were released. A national symbol of the crisis saw Americans tying yellow ribbons around trees as an expression of hope that the hostages would be freed, and for the Super Bowl game, the New Orleans Superdome was adorned with a giant yellow ribbon.
The game itself was a contest between two organizations that were diametrically opposed. The Raiders had a reputation of being rebel castoffs who were free spirits, an image their owner, Al Davis, not only cultivated but advanced with his own behavior as a renegade owner. The Eagles, on the other hand, were a button-down, by the book team that mirrored their stiff, high-strung coach, Dick Vermeil. The Raiders, being their usual loose and fun-loving selves, took advantage of the nervous Eagles and jumped out to a quick 14-0 first quarter lead on the strength of a pair of Jim Plunkett touchdown passes – a short 2 yarder to Cliff Branch and an 80 yarder to running back Kenny King. Philadelphia got on the board in the second quarter on a Tony Franklin field goal, but the Raiders countered that when Plunkett again found Branch for a score, this time from 29 yards out. That gave Oakland a 21-3 lead that they never relinquished. The Eagles finally managed a touchdown when Ron Jaworski found Keith Krepfle for an 8 yard TD, but they never seriously challenged the Raiders, who added 2 Chris Bahr field goals to complete a 27-10 victory.
It was a day of redemption for Plunkett, who had been considered a major bust after failures in New England and San Francisco to start his career. On this day, he completed 13 of 21 passes for 261 yards and the 3 touchdowns to earn the game's Most Valuable Player award. Vermeil took a lot of criticism for being too rigid and having his team wound too tight to the point where they didn't perform well, but he learned his lesson later in his career, when he coached the powerhouse St. Louis Rams "Greatest Show On Turf" club to an NFL title.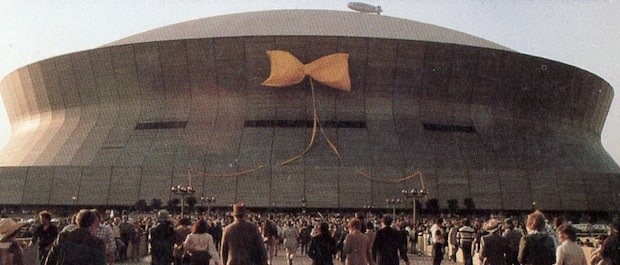 Yellow ribbon tied around the Superdome for the Iran hostages