The Oakland Raiders and New England Patriots meet in Mexico on this week's NFL schedule, taking this week's Throwback Thursday feature back to an AFC Divisional playoff game contested on January 19, 2002 between these two clubs. It was a controversial game that, because of a play in the fourth quarter in which an obvious fumble was turned into an incomplete pass due to an obscure rule, went down in NFL lore as the "Tuck Rule Game". It was one of many controversial and memorable games involving the Raiders over the years, and also served as a springboard for young Patriot quarterback Tom Brady on his journey to 5 Super Bowl titles. It was the final game ever played at old Foxboro Stadium, and was a classic NFL "snow globe" game, as it was played in a heavy snowstorm. The Patriots won in overtime, 16-13, on an Adam Vinatieri field goal. The New England kicker had booted a 45 yard three-pointer with less than a minute left in regulation to tie the game, but it was the controversial play earlier in the drive to set up that score that would become a flashpoint for arguments over the league's convoluted rules.
Brady was sacked while dropping back to pass by Oakland's Charles Woodson, forcing what appeared to be a fumble, which the Raiders recovered. In all honesty, for every NFL game played in the history of the league prior to this, and for any gridiron contest played at any level ever, the play would have been ruled as, and was, a fumble. Brady had cocked his arm to pass, then pulled the ball back and attempted to tuck it into his body just as Woodson hit him. However, the officials reviewed the play and invoked the little known "Tuck Rule", changing the call to an incomplete pass and giving New England the ball back, thus allowing Brady to continue the drive to the tying field goal. An Oakland recovery of the fumble would have basically sealed the victory for them. The wording of the tuck rule left a lot open for interpretation by the officials, as does a lot of current league rules, which leads to those officials often looking like buffoons. It was such a bad rule that the league quietly and quickly got rid of it in the off-season.
Oakland owner Al Davis insisted the call was terrible and was only made because the NFL had it in for his team, due to the court battles he had with the league as a rogue owner. Davis was also furious with his head coach at the time, Jon Gruden, claiming Gruden hadn't protested the call loudly or persistently enough. Bad blood ensued between the two, and Gruden eventually departed to become head coach in Tampa Bay.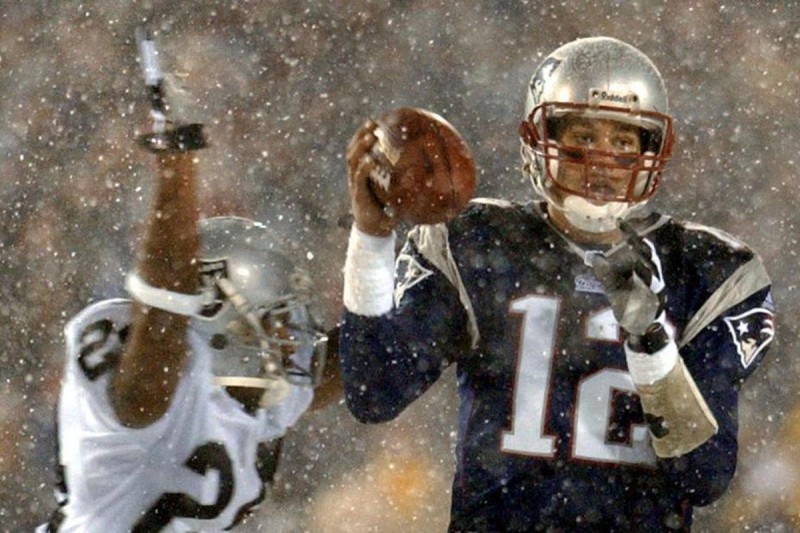 Oakland's Charles Woodson about to dislodge the ball from Tom Brady on the "Tuck Rule" play