Week nine of the NFL's 2018 regular season schedule includes a matchup of 2 clubs who at one time were AFC West rivals – the Los Angeles Chargers and Seattle Seahawks. We'll travel back to November 16, 1981 for this week's Throwback Thursday feature game, played between these two franchises. It was a Monday night game, and the Chargers, of course, were still based in San Diego. The contest took place at Seattle's Kingdome, when the Chargers were at the height of their "Air Coryell" era when they dominated opponents with their explosive offensive attack. The Seahawks, meanwhile, were still a relatively young club, having only come into existence as an expansion team in 1976. They were coached by Jack Patera, who was in his sixth year as their  head man, having been hired as their first coach in '76. Patera, who passed away recently of pancreatic cancer, carried the extra burden into this game of having never beaten the Chargers in 8 previous tries since they entered the league.
The Seahawks finally broke through on this night, winning handily 44-23 as their defense did a reasonably good job of containing San Diego's vaunted passing attack, which was led by future Hall of Fame quarterback Dan Fouts. Although tight end Kellen Winslow had a terrific night statistically, with 7 catches for 106 yards, Seattle's secondary basically shut down the Chargers' vaunted wide receivers, Charlie Joiner and Wes Chandler, holding them to a combined 4 receptions for 61 yards. The bulk of the Charger offense, in fact, came from their rushing attack, with Chuck Muncie grinding out 151 yards on 20 carries. The Seahawks used a balanced attack to engineer the win, as their savvy southpaw signal caller, Jim Zorn, threw for 212 yards and a pair of scores, while running backs Theotis Brown and Dan Doornink led a rushing attack that amassed 156 yards and 3 TDs on the night. Brown and Doornink each scored twice, Brown on short plunges and Doornink on a short run and an 80 yard catch-and-run on a pass from Zorn.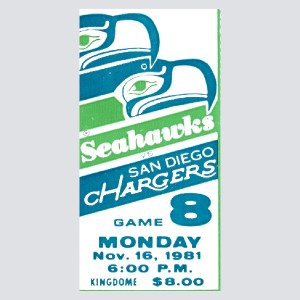 1981 Chargers vs. Seahawks game program
It was a satisfying victory for Patera and the Hawks, one that was a long time coming. It wasn't really a portent of things to come for either club, however. The Chargers rebounded to finish 10-6 and qualify for the playoffs, where they advanced to the AFC Championship game with a dramatic overtime win in Miami. Seattle didn't gain a lot of momentum from this Monday night moment, finishing 6-10. Patera survived the season but was fired early on the following year during the 1982 player's strike.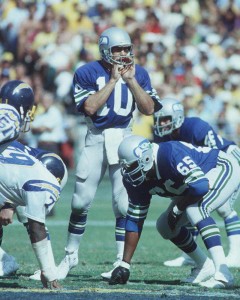 Seahawks' QB Jim Zorn barks out signals