This week's Throwback Thursday feature harkens back to a classic playoff game between 2 teams that match up on this week's NFL schedule, the Oakland Raiders and Miami Dolphins. Played on December 21, 1974, it went down in football lore as the "Sea of Hands" game because of the way it ended. The Raiders and Dolphins were both NFL powerhouses at the time, and this game figured to be a good one. Oakland was one of pro football's winningest regular season teams of the era, while the Dolphins were defending champions coming off back-to-back Super Bowl wins and seeking an unprecedented third consecutive title (and fourth consecutive appearance).
The game got off to a great start for Miami as Nat Moore returned the opening kickoff 89 yards for a touchdown. However, it was the only score of the first quarter as the defenses of both clubs dug in. In fact, Oakland scored the only other touchdown of the entire first half as their swashbuckling QB, Ken "The Snake" Stabler, hit Charlie Smith with a 31 yard scoring throw. The Dolphins' signal caller, Bob Griese, was anything but a swashbuckler. His stat line for the day was very pedestrian, as he threw only 14 passes, completing 7 for a paltry 101 yards. That was Miami coach Don Shula's standard game plan at the time. The Dolphins routinely won mixing  tough defensive play by their "No-Names" with a bruising running game that on this day accumulated 213 yards. Larry Csonka had a typical day for them, rushing 24 times for 114 yards. Griese did manage to hit his future Hall of Fame wideout Paul Warfield with a 16 yard TD pass as the teams traded third quarter touchdowns. Stabler hooked up with Fred Biletnikoff on a 13 yarder. The offensive fireworks picked up in the final quarter to provide the thrilling ending. Garo Yepremian booted a Miami field goal and Stabler hit speedy Cliff Branch with a 72 yard touchdown pass that was a Raider trademark – the vertical passing game. Shula's run game produced another six-pointer with Benny Malone scampering 23 yards to give his club a 26-21 lead, setting up Stabler to begin an iconic drive. He methodically guided Oakland down the field to Miami's 8 yard line. With no timeouts left and a first and goal from the 8, Stabler dropped back, looked for Biletnikoff, who was blanketed by multiple Dolphin defenders. He scrambled back to his left and within milliseconds of being dragged down for a sack, lofted a pass into a crowd of players in the corner of the end zone. Most of the players in that crowd were Miami defenders, but somehow, miraculously, the Raiders' Clarence Davis clutched the ball, and the game-winning touchdown, out of the "Sea of Hands" of opposing players. Miami had a chance to counter the score as they trailed by 28-26 at that point. Needing only a field goal, Griese started a drive only to have Oakland linebacker Phil Villapiano seal the deal by intercepting him.
NBC's game announcer, Curt Gowdy, called the contest the "greatest game I ever saw", and his analyst counterpart, Al De Rogatis, concurred. The Raiders, who had lost only 2 games all year, were pretty confident that they were on their way to their first Super Bowl title, especially after dethroning the two-time champion Dolphins. However, they would be thwarted in that effort the next week by the Pittsburgh Steelers in the AFC title game, beginning the Steelers' four-time Super Bowl-winning run of the 1970s.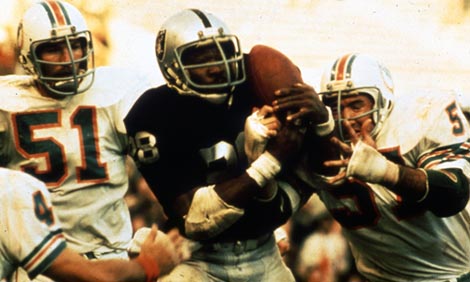 Oakland's Clarence Davis makes the "Sea of Hands" catch