With this week's NFL schedule including a matchup of the Green Bay Packers and San Francisco 49ers, our Throwback Thursday feature will go back to an NFC wild card game played between these 2 iconic franchises on January 3, 1999. The game featured a pair of future Hall of Fame quarterbacks, Green Bay's Brett Favre and San Francisco's Steve Young, but the offensive production for both teams in this contest came mostly from their running games. The star running backs on this day weren't necessarily household names. Dorsey Levens, for most of his career a backup, racked up 116 yards and a touchdown on 27 carries for Green Bay, while Garrison Hearst totaled 128 yards on 22 carries for the Niners.
Although the running games were featured by both teams, Favre and Young used short passes to complete drives as the game went on. Up until the last 2 minutes of the contest, Favre completed 2 short scoring passes to Antonio Freeman, while Young connected with Greg Clark on a pair of touchdown throws, with both scoring plays totaling a whopping 9 yards. The team's field goal kickers, Ryan Longwell of the Packers and San Fran's Wade Richey, traded field goals all game long, and with 2 minutes left to play, the Packers took a 27-23 lead when Favre hit Freeman for his second TD of the game. That left Young with the opportunity to match Favre with some late game magic of his own. Although their weren't a lot of aerial fireworks in this game, the signal callers, who were both recent Super Bowl winning QBs, showed their excellence in putting together scoring drives when it mattered. Young proceeded to lead his club downfield and with 9 seconds left, he hit his young, brash wide receiver, Terrell Owens, with a pinpoint post pattern throw covering 25 yards for the winning score, sealing a 30-27 victory for the 49ers.
It was a bit of a coming out party for Owens with his dramatic touchdown. He had been playing second fiddle to Niner legend Jerry Rice since arriving on the scene, and became quite emotional on the sideline after his game-winning heroics. In some ways, it was the start of a symbolic passing of the torch with the 49ers, as Rice was nearing the end of his reign with the team while Owens' career was just beginning. Some people labeled the winning play "The Catch II" after the original "The Catch" made by another 49er, Dwight Clark, in 1982 on a throw from Joe Montana. Owens' play wasn't quite as dramatic, however. It happened in a wild card game while the Montana to Clark play came in an NFC Conference championship game and propelled San Francisco to its' first Super Bowl appearance.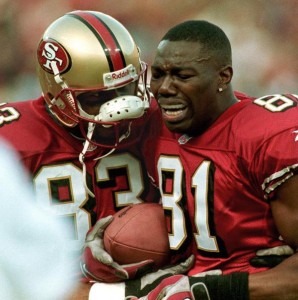 An emotional Terrell Owens after his game-winning catch