The Cleveland Browns meet the Indianapolis Colts on this week's NFL schedule, which takes our Throwback Thursday feature back to the 1964 NFL Championship game, played between these 2 franchises. Growing up as a Browns' fan in this era, this was one of my favorite football games of all time. In fact, the Browns and Buffalo Bills of the AFL were my favorite teams at the time, and both won their respective league titles that year. The Colts were a heavy favorite going into the game. They were coached by the man who would go on to become the winningest coach in NFL history, Don Shula, and their roster was loaded with talented offensive weapons like John Unitas, Lenny Moore, Raymond Berry, John Mackey, Tom Matte, Jim Parker and Jimmy Orr. Defensively they were an immovable object, led by Gino Marchetti , Don Shinnick, Ordell Braase, Steve Stonebreaker and Lenny Lyles.
The Browns were a year removed from a player uprising that led to the firing of their legendary founder and head coach Paul Brown. He was replaced by the very capable Blanton Collier, who had one advantage going for him. The players, led by all time great fullback Jim Brown, were determined to prove they could win despite Paul Brown's departure. Surprisingly, after a scoreless first half with the weather affecting both offenses, Cleveland dominated the game in the second half. The Browns' underrated defense shut out the high-powered Colts as they did in the first half, while Browns' quarterback Frank Ryan began to put drives together. He hit flanker Gary Collins for a pair of touchdowns in the third quarter, and the Browns added a Lou Groza field goal to take a 17-0 lead into the final stanza. Another Groza field goal and a third scoring throw from Ryan to Collins sealed the victory for the Browns, 27-0.
It was the last title the Browns would win to this day, but it was a sweet one as the players proved their point about winning without Paul Brown's disciplinary style. Jim Brown made his usual contribution to the attack, rushing for 114 yards and adding 37 receiving yards. Collins was the game's MVP with 5 catches for 130 yards and the 3 TDs. It was a sweet victory for Ryan, who had been a journeyman in the league before the Browns traded for him from the Rams in 1962 to back up starter Jim Ninowski. Unfortunately, Ninowski broke his collarbone and Ryan took over as the starter in '63, and never relinquished the job.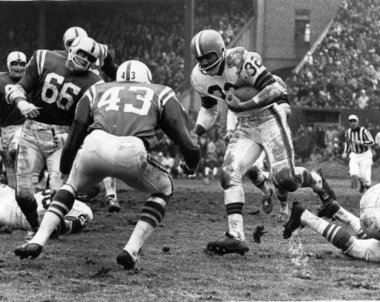 Jim Brown takes on Colt defenders in the 1964 title game