The week 12 NFL schedule this week includes the annual Thanksgiving Day games played in Detroit and Dallas, plus the third contest, played at night. This year, the Chicago Bears and Detroit Lions meet in an NFC North showdown, which allows this week's Throwback Thursday feature to travel back in time to the first Turkey Day game played in Detroit. It was played on November 29, 1934 at the University of Detroit Stadium, and both teams were strong contenders in the NFL. In fact coach George Halas' Bears entered the game undefeated, while the Lions boasted a 9-2 record. Other pro football teams had played on Thanksgiving for years prior to the Motor City's debut on this day, but the Lions' owner at the time, George Richards, wanted to start the yearly tradition with his team as a promotion to boost attendance, and he had a major advantage which convinced other NFL owners to allow him to claim the Turkey Day game. He owned a local radio station, WJR, which was a major affiliate of the NBC Radio Network, and was able to secure a deal to get the game broadcast nationally live across the network. The annual game grew into a traditional staple on the NFL schedule. In conjunction, Detroit holds an annual Thanksgiving parade, originally started in 1924 by the J.L. Hudson Department Store, which has been dwarfed over the years by New York's Macy's Parade that is nationally televised.
As for the Motor City's inaugural game, the two strong clubs provided an exciting contest. Passing yardage was at a premium in those old "ground and pound" days, and this game was indicative of the times. Chicago threw for 77 yards while the Bears' "Monsters of The Midway" defense held the Lions to a meager 37 yards through the air. The hometown Lions kept pace with Halas' Bears in the first half. In fact, a pair of short touchdown runs by fullback Ace Gutowsky gave Detroit a 16-7 halftime lead. Gutowsky isn't exactly a household name in pro football history, but he did hold the Lions' franchise records for single season and career rushing yardage into the 1960s.
The proud Bears battled back in the second half. A pair of third quarter field goals by Jack Manders cut the Lions' lead to 16-13, and in the final quarter, another Bears' and NFL legend, Bronko Nagurski, tossed a short scoring pass to Bill Hewitt to give the Bears a hard-fought 19-16 victory. The '34 season was a bittersweet one for Halas' Bears. They went on to finish undefeated in the regular season, only to lose 30-13 to the New York Giants in a championship game that became known as the "Sneakers Game".  The story of that game will surely be the subject of a future TBT post.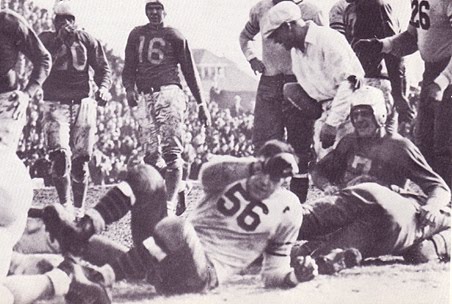 Bears and Lions battle on Thanksgiving Day 1934